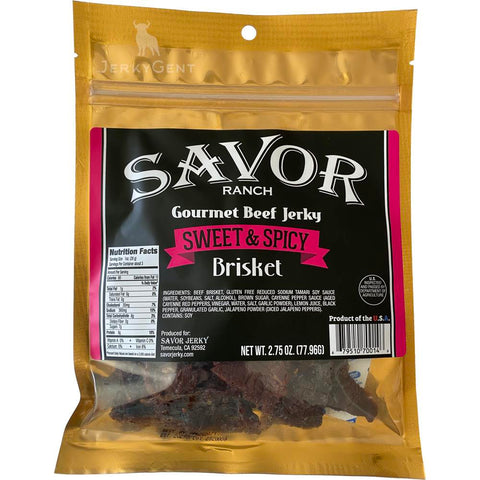 Savor Jerky
Savor Gourmet Jerky Sweet & Spicy Beef Brisket Jerky, 2.75-oz
Deliciously tender and sweet at first bite. Followed by a unique and diverse blend of flavors that include cayenne and jalapeño for a spicy finish!
Nutritional information
Ingredients: Beef brisket, gluten free reduced sodium tamari soy sauce (water, soybeans, salt, alcohol), brown sugar, cayenne pepper sauce (aged cayenne red peppers, vinegar, water, salt, garlic powder), lemon juice, black pepper, granulated garlic, jalapeno powder (diced jalapeno peppers).
Contains: Soy
Package size: 2.75-oz
5-Star .. Excellent
5-Star .. Excellent
Bias to brisket
Our favorite purchase
My husband and I purchased like six different flavors to try out and this was by far our favorite. It had the perfect mixture of sweet and spicy and it was soooo tender, like melt in your mouth, tender. We already bought another bag LOL!
Thanks for reviewing Savor beef jerky! Happy to hear you love it! It's one of our favorites too. Super tender and flavorful. Enjoy your second bag! - JerkyGent Team