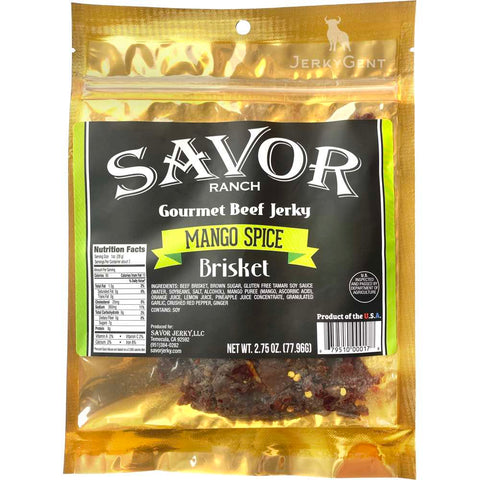 Savor Jerky
Savor Gourmet Mango Spice Beef Brisket Jerky, 2.75-oz
Exceptionally tender beef brisket jerky loaded with mango flavor and spiked with crushed red pepper for a sweet and spicy tropical bite!
Nutritional information
Ingredients: Beef brisket, brown sugar, gluten free tamarind soy sauce (water, soybeans, salt, alcohol), mango puree (mango, ascorbic acid), garlic, crushed red pepper, ginger.
Contains: Soy
Package size: 2.75-oz
Hi Bridget! Thank you for reviewing Savor Gourmet Mango Spice Beef Brisket Jerky. Happy to hear the brisket jerky tasted delicious. Glad you love the brand too! We're looking forward to sending you more delicious jerky in the future. Thanks again for your feedback! - JerkyGent Team
Mango jerky....what's better then that
Definitely my favorite so far! So good!!
Hi Ramona! Thank you for reviewing Savor Gourmet Mango Spice Brisket Beef Jerky. Glad to hear it's your favorite flavor of jerky so far! The mango flavor is indeed very delicious paired with the tender brisket. Can't wait for you to try more delicious jerky! Thanks again for your amazing review. Our team loves hearing from customers like you. Happy chewing! - JerkyGent Team