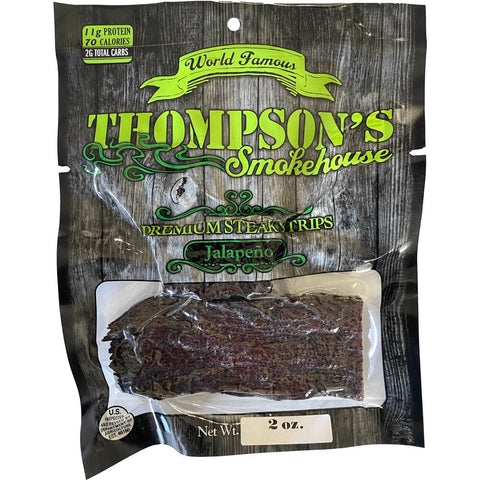 Thompson's Smokehouse
Thompson's Smokehouse Jalapeno Steak Strips, 2.0-oz
Product Description: World famous steak strips, thick cut, and loaded with fresh and delicious jalapeño flavor! Smoked in a custom smokehouse for a tender and smoky bite that delivers the perfect amount of heat. This one will have you coming back for more!
Ingredients: Beef, dextrose, spices (including green jalapeno pepper), salt, hydrolyzed corn protein, onion powder, monosodium glutamate, mustard, garlic powder, green bell pepper powder, artificial bell pepper flavor, not more than 2% soybean oil added as a processing aid, potassium sorbate, modern cure (salt, sodium nitrite (6.25%), propylene glycol and sodium bicarbonate as a processing aid, red #3).
Package Size: 2.0-oz
Nutritional information
Ingredients:
Package size:
We absolutely love every and all items we receive!!!! Haven't had a bad batch yet!!!
Hi Kelly! Thanks for taking the time to leave us an awesome review. Glad to hear all the jerky is tasting great! We look forward to sending you more delicious brands and flavors. Thanks again for reviewing us. Happy chewing! - JerkyGent Team