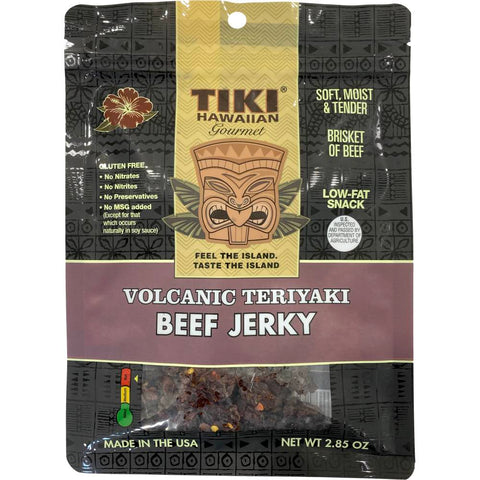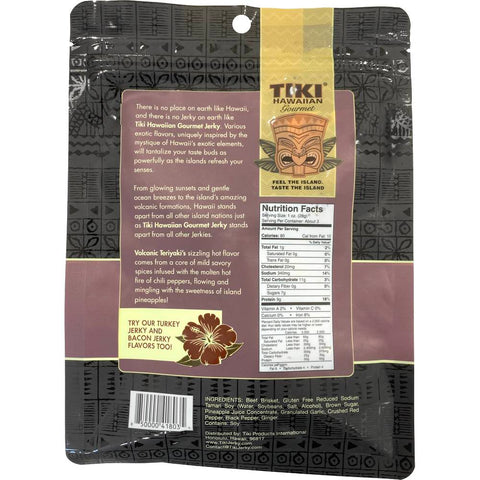 Tiki Hawaiian
Tiki Hawaiian Volcanic Teriyaki Beef Jerky, 2.85-oz
Soaked in a spicy teriyaki marinade for 24 hours. This tender, Hawaiian brisket jerky will keep you coming back for more. It's not too spicy - making it easy to eat with just enough heat.
Nutritional information
Ingredients: Beef brisket, gluten-free reduced sodium tamari soy sauce (water, soybeans, salt, alcohol), brown sugar, pineapple juice concentrate, granulated garlic, crushed red pepper, black pepper, ginger.
Contains: Soy
Package size: 2.85-oz
Tender and delicious
My husband and I really enjoyed this jerky. It was tender and the flavor was really good. Just wish it had a bit more heat behind it.
Hey Stacia! Thank you for reviewing Tiki Hawaiian Volcanic Teriyaki Beef Jerky. Glad to hear you and your husband really enjoyed the jerky. We agree it's very delicious, but could use a bit more heat. Looking forward to you trying more spicy flavors of beef jerky. Thanks again for your review. Happy chewing! - JerkyGent Team