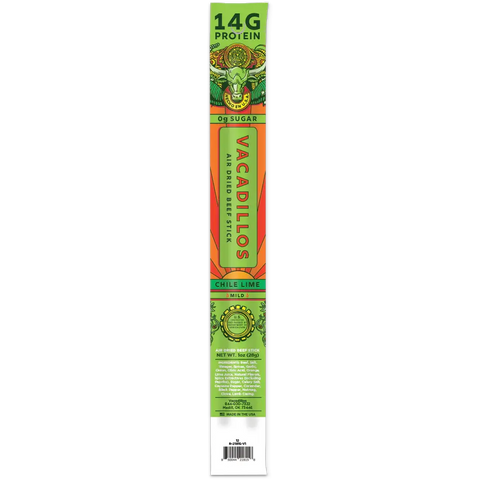 Vacadillos
Vacadillos Chile Lime Air Dried Beef Stick, 1.0-oz
With the perfect zesty blend of chile and lime, it's no wonder why everyone loves it! No added sugar, carbs, MSG, nitrates, or preservatives – all-natural, gluten-free, dairy-free, and guilt-free! Go ahead and satisfy your cravings - this stick is sure to spice up your snacking!
Nutritional information
Ingredients: Beef, salt, vinegar, spices, garlic, onion, citric acid, orange, lime juice, natural flavors, spice extractives (including paprika), sugar, celery salt, cayenne pepper, coriander, black pepper, nutmeg, clove, lamb casing.
Package size: 1.0-oz