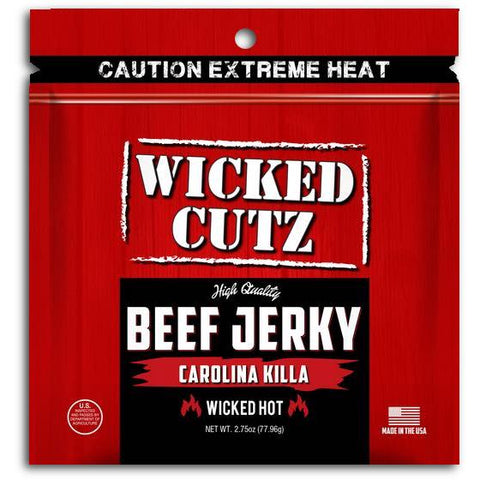 Wicked Cutz
Wicked Cutz Carolina Killa - Carolina Reaper Beef Jerky, 2.75-oz
The Carolina Killa is made with the three hottest peppers in the world, Carolina Reaper, Scorpion, and Ghost Peppers work in synchrony to deliver an extreme heat that you'll feel for hours! Only for the bravest and most heat-tolerant jerky aficionados.
Nutritional information
Ingredients: Beef, teriyaki sauce (soy sauce (water, wheat, soybeans, salt), wine, high fructose corn syrup, water, vinegar, salt, spices, onion powder, succinic acid, garlic powder, sodium benzoate: less than 1/10 of 1% as a preservative), brown sugar, scorpion pepper, carolina reaper mash (carolina reaper peppers, vinegar), cayenne, pineapple juice (ascorbic acid (vitamin C), vitamin E, vitamin A), Worcestershire sauce (distilled white vinegar, molasses, sugar, water, salt, onions, anchovies, garlic, cloves, tamarind extract, natural flavorings, chili pepper extract), lemon juice (water, lemon concentrate, lemon emulsion, sodium benzoate), granulated garlic, ghost pepper, ground pepper, sea salt, ginger.
Contains: Wheat, soy, and anchovies
Package size: 2.75-oz
Hot hot hottest yet!
I like my jerky spicy and this is the hottest beef jerky ive tried yet! Eyes watering, nose running, tongue on fire. It is sooo good!
Hottest tasty jerky
Excellent, made good on an situation out of their control and made this customer very happy, thanx Jerky Gent, highly recommend them!
packs a kick
I like the extra spicy things. I thought I would try a different jerky. This jerky really gives you a kick. As soon as I opened the package, I could smell the heat in it. The heat is even more present when you put a piece in your mouth. If you like heat, try this jerky.
Pretty damn hot
I really love the heat of this product. The burn does last a while. The only bad part is the next day if you know what I mean lol.
Hey Tony! Thanks for reviewing Wicked Cutz Carolina Killa Beef Jerky. Glad to hear you loved the heat! We agree the heat does last for some time. Looking forward to sending you more spicy jerky in the future. Thanks again for your review. Have a great day! - JerkyGent Team
Awesome
This is the best jerky!!! Great heat!!! I was surprised how hot it was!!! Diffinitly buying more!!!
Hi Leonard! We're happy to hear you enjoyed Wicked Cutz Carolina Killa Beef Jerky. Thank you for rating this bag of beef jerky 5-stars. Looking forward to you buying more bags - it's a HOT seller, literally! Thanks again for your feedback on the jerky. Happy holidays and happy chewing! - JerkyGent Team