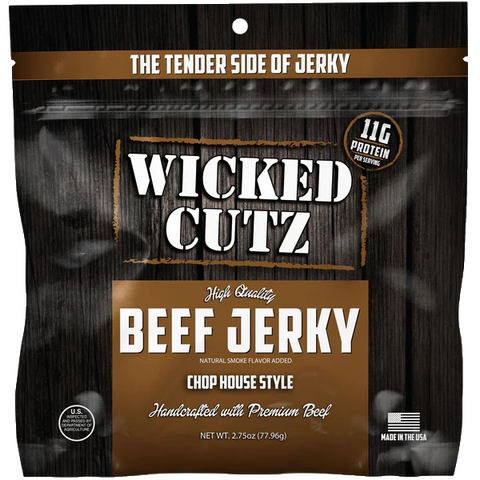 Wicked Cutz
Wicked Cutz Chop House Premium Beef Jerky, 2.75-oz
Experience the simple richness of Wicked Cutz Chop House Premium Beef Jerky with its classic blend of beef, salt, and cracked pepper! Devour this handcrafted, American classic and savor every bite of its authentic flavor profile - perfect for the beef lover who wants it straight to the point! Get ready for a flavor ride: crack open a bag and enjoy!
Nutritional information
Ingredients: Beef, Tamari Sauce (Water, Soybeans, Salt, Sugar), Water, Brown Sugar, Garlic, Liquid Hickory Smoke Flavor, Worcestershire Sauce (Distilled Vinegar, Molasses, Sugar, Water, Salt, Onions, Anchovies, Garlic, Cloves, Tamarind Extract, Natural Flavorings Chili Pepper Extract), Lemon Juice, Granulated Garlic, Ground Black Pepper
Contains: Soy.
Package size: 2.75-oz