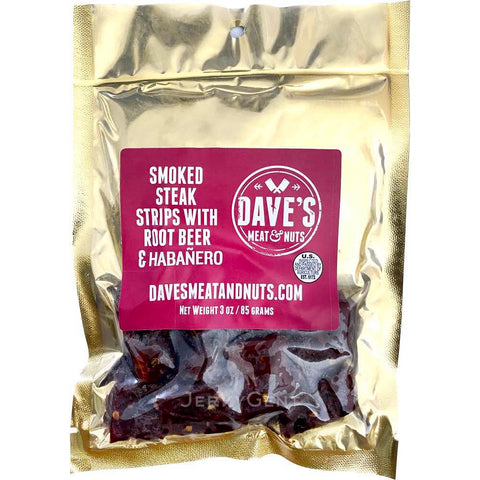 Dave's Meat & Nuts
Dave's Meat & Nuts Root Beer Habanero Steak Strips, 3.0-oz
You've got to try Dave's #1 seller! And yes, it's really made with root beer for an added touch of sweetness. A nice clean heat, with a hint of root beer, makes this jerky unbelievably delicious and unique. 
Dave's jerky is made in a real smokehouse with the best cuts of the highest quality meat. The result is amazing flavor and truly one of the most tender jerky you'll ever have.
Nutritional information
Ingredients: Beef, brown sugar, salt, root beer, contains 2% or less of the following: dried maple syrup, crushed red chilis, cayenne pepper, jalapeno peppers, habanero peppers, black pepper, garlic, onion, ginger, sodium nitrite.
Package size: 3.0-oz