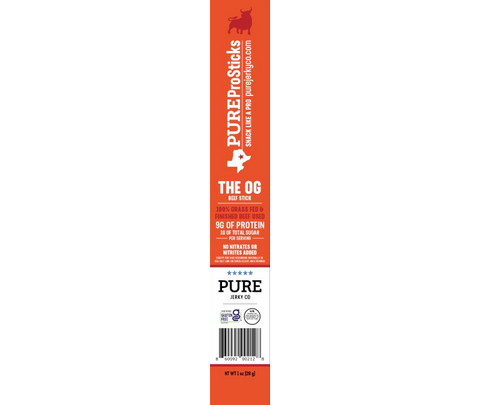 Pure Jerky Co.
PureProStick The OG Beef Stick, 1.0-oz
Product Description: Introducing PureProStick The OG Beef Stick, a premium gluten-free snack crafted with 100% US grass-fed beef and the finest ingredients. Handmade with homemade techniques and bold flavors, each 1.0-oz stick offers 9 grams of protein. Enjoy the PURE rodeo of flavor and great taste you expect.
Ingredients: 100% US Grass Fed Beef, Sea Salt, Encapsulated Citric Acid, Brown Sugar, Black Pepper, Celery-Powder, Granulated Onion, Granulated Garlic, Mustard Powder, Chipotly Powder, Jalapeno Pepper Flakes, Hatch Pepper, Tamarind Powder, Ground Araway, In Beef Collagen Casing.
Nutritional information
Ingredients:
Package size: