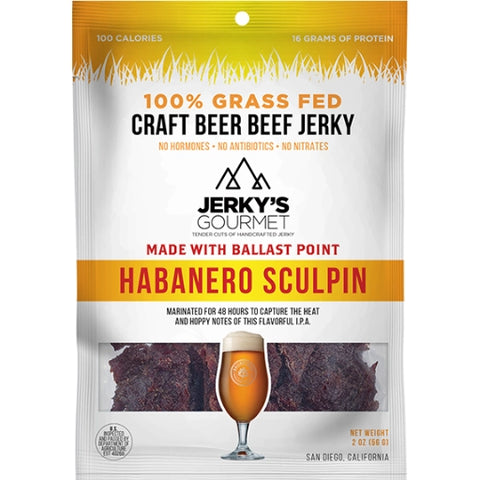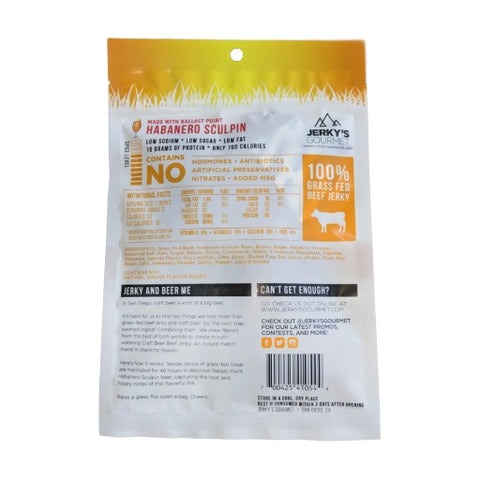 Jerky's Gourmet
Jerky's Gourmet Ballast Point Habanero Sculpin IPA Beef Jerky, 2-oz
Marinated for 48 hours in Ballast Point's Habanero Sculpin IPA, one of the most flavorful IPA's known to man! This handcrafted jerky brings an eruption of habanero heat that's balanced with delicious hoppy flavor.
Nutritional information
Ingredients: Grass fed beef, habanero sculpin beer, brown sugar, balsamic vinegar, seasoned salt (salt, sugar, spices, onion, cornstarch, garlic, tricalcium phosphate, paprika, oleoresin, natural flavor, soy lecithin), lime juice, gluten free soy sauce (water, rice, soy beans, salt), habanero powder, garlic, pepper, liquid smoke. Natural smoke flavor added.
Contains: Soy
Package size: 2.0-oz
Heat Level:
0 - Mild
10 - Extremely Hot
Love it all!!
Love all the different jerky I've bought so far. And being lower in sodium, even better.
The habanero sculpin one is a little too hot though. That's the only thing I can say.
the best beef jerky
is absolutely the best beef jerky I have ever eaten, it is very spicy but has the right acidity and the taste is exceptional.
Wow! Heat and Flavor!
The Habanero Sculpin really packs a punch - it's got the heat, but is also tender and flavorful. I'll buy again!
Temping delicious
The overall experience was temping delicious what I expected just like the beer ..