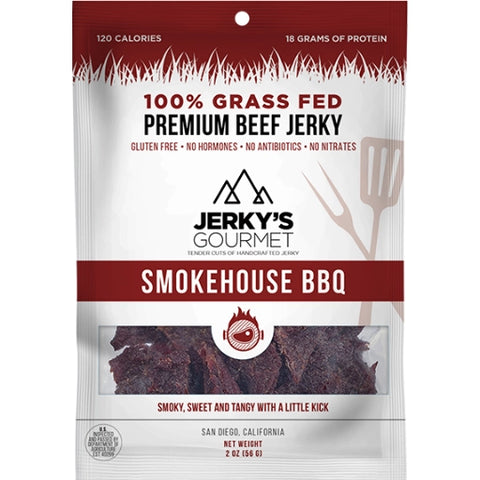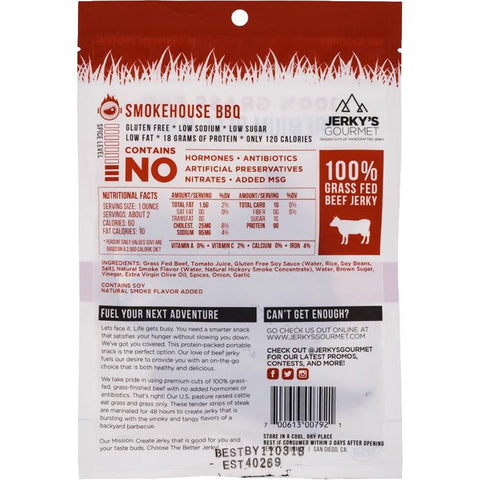 Jerky's Gourmet
Jerky's Gourmet Smokehouse BBQ Craft Beef Jerky, 2-oz
Juicy, tender, and loaded with sweet, smoky, and tangy flavors for a signature backyard BBQ taste! 
100% pasture raised grass-fed beef
No hormones or antibiotics
No artificial preservatives
Gluten free
No nitrates
85mg sodium per serving
Nutritional information
Ingredients: Grass fed beef, tomato juice, gluten free soy sauce (water, rice, soy beans, salt), natural smoke flavor (water, natural hickory smoke concentrate), water, brown sugar, vinegar, extra virgin olive oil, spices, onion, garlic. Natural smoke flavor added.
Contains: Soy
Package size: 2.0-oz
Heat Level:
0 - Mild
10 - Extremely Hot
Slightly spicy, but very tasty lower sodium choice
I really had no idea how a lower sodium beef jerky would be. Bland? Tasteless? No! No! No! Very good tasting with a mild spicy kick. Will definitely order this exact product again.
Smokehouse BBQ
For something with as little sodium and sugar as this claimed to be it was as intensely flavored, with a kick, as a regular beef jerky. I was very impressed and plan to order more.
Delicious Jerky
I love this product. I am on a low salt diet and this is the only jerky I have found with a relatively low salt content. The flavor is delish too.
lots of flavor and low sodium
Awesome! I will be ordering more
Sodium sodium friendly 👍
Love that I can have this again. They have a variety under 140 mg/serving but these are the lowest they have. Wish they carried more at this level of sodium