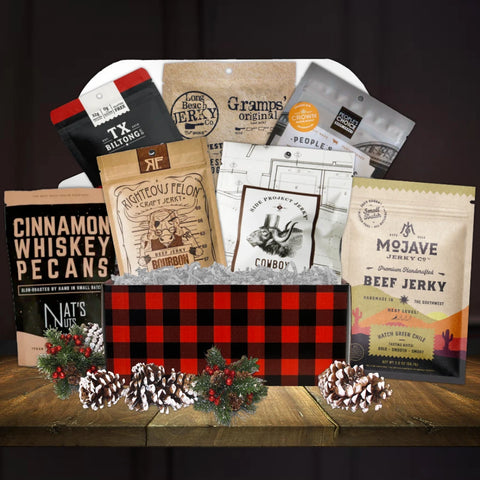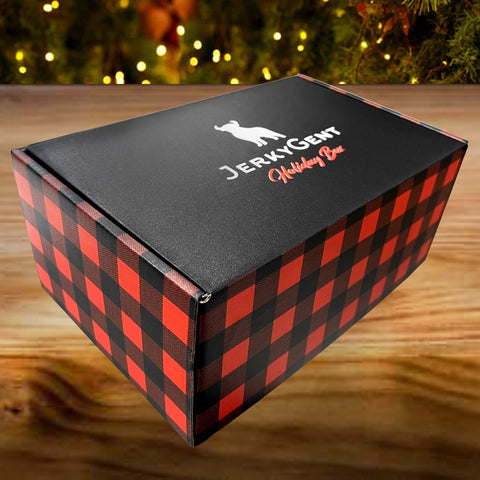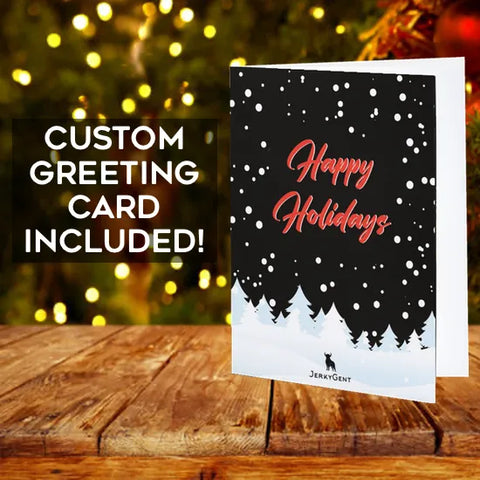 The Ultimate Beef Jerky Holiday Gift Box
The JerkyGent Holiday Box includes 6 bags of delicious craft jerky and 1 bag of craft nuts, hand selected by our jerky curators. From maple brown sugar to vanilla bean bourbon, your friends and family will enjoy trying new flavors of jerky they can't find anywhere else!

7 bags of delicious craft beef jerky & nuts
Ships in a limited edition holiday gift box
Includes 1 limited edition maple brown sugar jerky
Personalized holiday greeting card
One-time purchase
Free shipping!
Pick Your Plan
3, 6, & 12-month plans include the Holiday Box the first month (7 bags), followed by Classic JerkyGent boxes (4 bags).
Include a Thoughtful Note For Your Friends or Family
At checkout, you'll be able to include a personalized greeting card in their first box.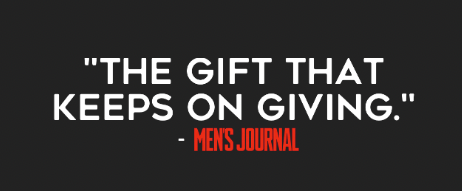 Limited Edition Maple Brown Sugar Beef Jerky
This delicious jerky only comes around once a year and it's included in the JerkyGent Holiday Box! Each bite reveals hints of cinnamon, vanilla, and bourbon. Warming you up from the inside, out. Enjoy the taste of the season.
Winter Warm-Up: Cowboy Coffee
Infused with Rival Bros coffee, smoked paprika, and a hint of balsamic, this jerky delivers the comforting flavors of Texas burnt ends. It's a sweet, smoky, and earthy delight perfect for those chilly winter moments.
Christmas Chile Duo: Red & Green Chile
Dive into the festive colors of the season with Mojave Jerky Co's Hatch Green Chile and TX Biltong Co's Smoked Red Chili. It's not just about their vibrant Christmas colors but also the harmonious dance of bold chili flavors they bring to the table. No need to brace for a fiery bite; these are all about rich taste without the burn. A delightful treat that captures the spirit of the holidays in every bite.
Discover the Story Behind Every Bite
Delve into the tales behind each jerky in our Holiday Box. With our exclusive insert, enjoy not just the flavors but also the stories of the brands that craft them. It's more than a snack—it's an experience.
Flexible Gifting
ORDER NOW. SHIP LATER. RELAX.
Simply select your ship date at checkout.
Flavors That Will Blow Them Away
We're loading up the Holiday Gift Box with the best craft jerky on the market. Flavors include:







Amazing Gift!!
This gift box was very delicious and delivered right on time!! I ordered for my dad and brother. Both of them let me try some. We were loving all the flavors! All the jerky was fresh too. Vanilla Bourbon and Maple Brown Sugar were my favorite flavors. Thank you for the fantastic gift idea!
Dad loved it!
It was fun getting the delivery notification and then a few days later my dad would call and tell me which were his favorites for that month.
My Go To Gift
This gift is on repeat for my husband. The last batch had one that was basically some bacon in a bag. He gave me a piece and it was SO good.
JerkyGent Beef Jerky Gift Box, Six-Months Prepaid
Will the jerky stay fresh through the holidays?
All the jerky is made fresh and doesn't expire for 8-12 months. You can keep the jerky bags in the gift box until the holidays. 
The box can be stored at room temperature until the bags are opened. 
After the jerky bags are opened, we recommend refrigerating them if not eaten right away.
What brands and flavors of beef jerky are included in the Holiday Box?
The JerkyGent Holiday Box includes the following bags of beef jerky (and one bag of nuts):
People's Choice - Maple Brown Sugar 2.5-oz
Mojave Jerky Co. - Hatch Green Chile 2.0-oz
Righteous Felon - Bourbon Franklin 2.0-oz
Nat's Nuts - Cinnamon Whiskey Pecans 4.0-oz
TX Biltong Co. - Smoked Chili Pepper 2.0-oz
Long Beach Jerky Co. - Gramps' Original 2.5-oz
Side Project Jerky - Cowboy Coffee 2.0-oz
I ordered a 3,6, or 12 month subscription. When do the boxes ship?
The first box (Holiday Box) ships on your selected ship date. The subsequent boxes renew on the 10th of each month for the duration of the gift plan, starting on January 10th. The subsequent boxes ship 1-3 business days after the 10th of each month.
For example: If you order a 3-month prepaid subscription, the Holiday box will ship on December 15th (unless you select a different ship date), the second box will renew on January 10th, and the third box will renew on February 10th.
How many bags of jerky are included in each box?
The Holiday Box contains 6 bags of beef jerky and 1 bag of nuts. The subsequent standard JerkyGent boxes contain 4 bags of beef jerky.
If I order a prepaid subscription, will I be charged again?
Nope. You will only be charged once for the prepaid subscription. The subsequent boxes will renew at a $0 charge each month.
What is the spice level for future monthly boxes if I purchase a prepaid subscription?
The subsequent boxes will include the "Try Them All" mix - a variety of mild, medium, and a few spicy flavors. But, nothing too hot! If you have any questions, feel free to reach out to our support team at info@JerkyGent.com.