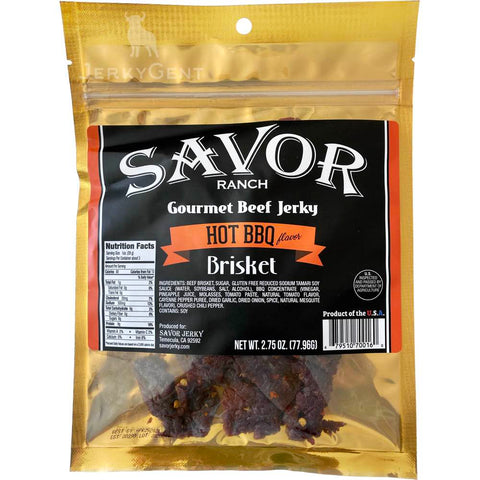 Savor Jerky
Savor Gourmet Jerky Hot BBQ Beef Brisket Jerky, 2.75-oz
Our favorite flavor from Savor Gourmet Jerky is loaded with delicious, smoky BBQ flavor that's capped off with a lingering spicy bite! Delectably tender and juicy for an outstanding brisket beef jerky experience. 
Nutritional information
Ingredients: Beef brisket, sugar, gluten free reduced sodium tamari soy sauce (water, soybeans, salt, alcohol), BBQ concentrate (vinegar, pineapple juice, molasses, tomato paste, natural tomato flavor, cayenne pepper puree, dried garlic, dried onion, spice, natural mesquite flavor), crushed chili pepper.
Contains: Soy
Package size: 2.75-oz
Bring some bbq heat
Great taste, bbq and bring the heat, but not over the top so I can still enjoy it. Nice and tender jerky.
Gimmie more!
My only complaint is that there wasn't more in the package.
Hi Brian! Thank you for reviewing Savor Gourmet's Hot BBQ Brisket Jerky! We agree the jerky is very delicious and always leaves you wanting more. Can't go wrong with tender and spicy bbq brisket! Thanks again for rating the jerky 5-stars. Your feedback is greatly appreciated. Have a great weekend! - JerkyGent Team