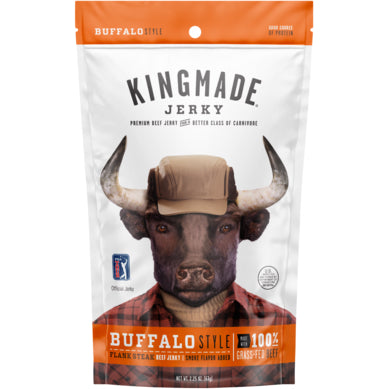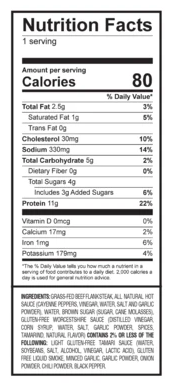 Kingmade Jerky
Kingmade Jerky Buffalo Style Flank Steak Beef Jerky, 2.25-oz
Tender cuts of grass-fed flank steak seasoned in a mouthwatering Buffalo sauce that delivers the delicious flavors of brown sugar, vinegar, and cayenne pepper.
Gluten free
No nitrites added
All-natural
100% grass-fed beef
Low sodium
Nutritional information
Ingredients: Grass-fed beef flank steak, all natural hot sauce (cayenne pepper, vinegar, water, salt, garlic powder), water, brown sugar (sugar, cane molasses), gluten-free Worcestershire sauce (distilled vinegar, corn syrup, water, salt, garlic powder, spices, tamarind), light gluten-free tamari sauce (water, soybeans, salt, alcohol, vinegar, lactic acid), gluten-free liquid smoke, minced garlic, garlic powder, onion powder, chili powder, black pepper.
Package size: 2.25-oz
Thanks for reviewing Kingmade's buffalo flavored beef jerky! It's one of our favorites as well. Glad to hear it tasted delicious and tender. Happy chewing! - JerkyGent Team
Tasty jerky
Great quality, always a surprise, whenever you get your monthly order, can't wait for my next!!
Great jerky
the flavor is so amazing love it
Generally good, a little dry
Liked the jerky a lot. Though, personally, I'm more partial to a wetter, more savory, jerky, this was still really good