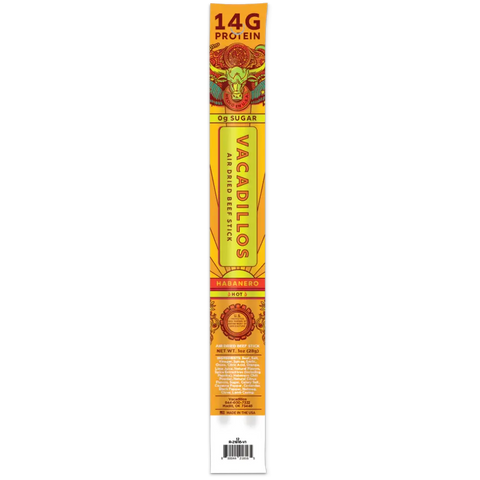 Vacadillos
Vacadillos Habanero Air Dried Beef Stick, 1.0-oz
Introducing Vacadillos Habanero Air-Dried Beef Stick, the spicy-spicy-spicy snack with all the zing and no guilt! Packed with 14g protein and 0g of sugar, carbs, MSG, nitrates, and preservatives, it's 100% all-natural and extra flavor-full. And thanks to its gluten-free, dairy-free, and junk-free credentials, you can enjoy a tasty snack that won't wreck your diet. Plus, the habanero blend of citrus and hot is sooooo delicious - you won't be able to resist!
Nutritional information
Ingredients: Beef, salt, vinegar, spices, garlic, onion, citric acid, orange, lime juice, natural flavors, spice extractives (including paprika), habanero chili powder, natural citrus flavors, sugar, celery salt, cayenne pepper, coriander, black pepper, nutmeg, clove, lamb casing.
Package size: 1.0-oz