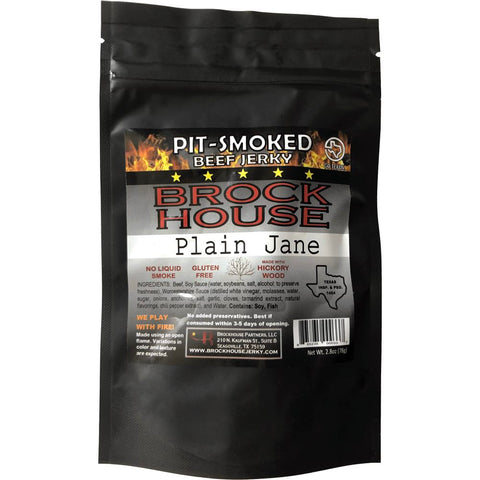 Brockhouse
Brockhouse Plain Jane Hickory Smoked Beef Jerky, 2.0-oz
Brockhouse slow-smokes their jerky in a custom-built BBQ pit, using real hickory wood that delivers a mouthful of authentic smoky flavor. Plain Jane delivers a traditional original flavor loaded with smoky goodness.
Nutritional information
Ingredients: Beef, soy sauce (water, soybeans, salt, alcohol: to preserve freshness), Worcestershire Sauce (distilled white vinegar, molasses, water, sugar, onions, anchovies, salt, garlic, cloves, tamarind extract, natural flavorings, chili pepper extract), and water.
Contains: Soy, Fish
Package size: 2.0-oz
Jerky licious!!!!!
I was actually going to re-order a different brand of jerky that I had previously gotten.
When I came across this jerky I thought it sounded really tasty.
Indeed I was right, this is my new favorite jerky currently.
The flavor is insane and you can definitely tell that it is indeed brisket.
It is not a soft jerky nor The jerky that you will break your crown on.
It's actually a perfect happy medium.
Once you start eating this it will be obvious that it is not processed but solid strips of brisket seasoned perfectly.
I wouldn't recommend eating this jerky late at night because it is actually addictive.
If you do not control yourself it will be easy to go through a 2.8 ounce bag at one sitting.
So beware if you already have the ( munchies!!!). Dangerous meat!!!!!!
Hey Brett! Thank you for the awesome review of Brockhouse Plain Jane Beef Jerky. Glad to hear the jerky was very much enjoyed! We agree it has the perfect texture and it's seasoned perfectly. Also, thanks for warning customers about how dangerously delicious it can be. We agree it can disappear rather quickly, if you don't have any self-control. :) Thanks again for your awesome feedback. It's customers like you who make our jobs so great. Happy chewing! - JerkyGent Team