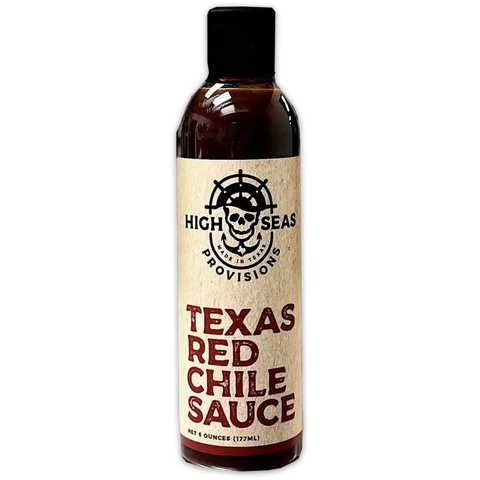 High Seas Provisions
High Seas Provisions Texas Red Chile Hot Sauce, 6.0-oz
Attention, jerky enthusiasts and flavor explorers! JerkyGent presents to you an essential sauce that promises to redefine your culinary experiences. Straight from the masterful kitchens of High Seas Provisions, the Texas Red Chile Sauce is more than just a condiment; it's a journey.
High Seas Provisions ventured deep into Texas, carefully selecting an ensemble of dried chiles. Toasted to perfection, these chiles then dance with garlic, onion, a hint of vinegar, and a medley of secret spices. The result? A hot sauce that doesn't just scorch but also mesmerizes with its rich, smoky aroma and deep flavors.
But, be forewarned: this sauce has a unique charm. Its heat is like a suspense thriller, starting subtly at the back of your tongue before taking over your entire palate in a dramatic climax. Whether drizzled over a breakfast taco, stirred into a lunchtime bloody mary, or complementing a hearty meatloaf dinner, High Seas Provisions ensures that this sauce is your go-to companion.
And for those treading the vegan and gluten-free path, here's some more good news. High Seas Provisions crafted this gem with you in mind, making it both vegan-friendly and gluten-free. A flavor-packed voyage awaits!
Nutritional information
Ingredients: Water, chipotles in adobo (chipotle peppers, vinegar, tomatoes, onions, sugar, salt, paprika, soybean oil, spices), dried chiles, fresh garlic, sea salt, onions, apple cider vinegar, organic raw cane sugar, grape seed oil, spices and seasonings, onion powder, sesame seeds.
Package size: 6.0-oz