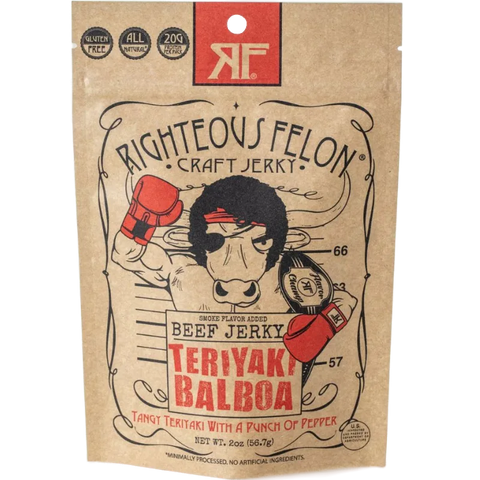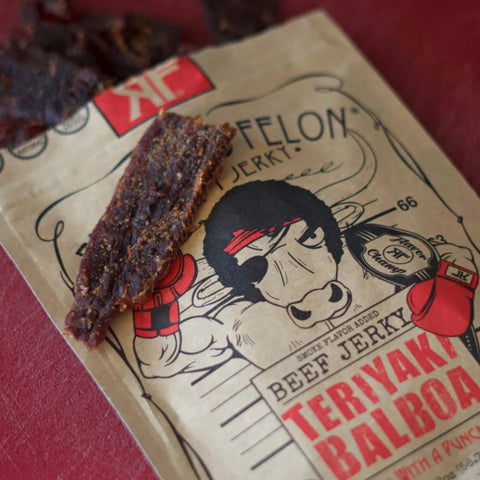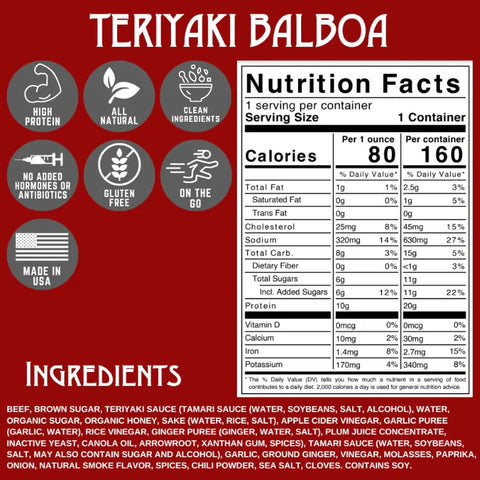 Righteous Felon
Righteous Felon Teriyaki Balboa Peppered Teriyaki Beef Jerky, 2-oz
Righteous Felon's Teriyaki Balboa Peppered Teriyaki Beef Jerky is a knockout flavor experience. Packed with locally-sourced, Philadelphia flavors including saké, tamari, brown sugar and honey, this 2oz jerky will hit the spot with its umami-rich, saké-infused punch. Succulent, savory and championship-worthy, this eye-popping snack is sure to have you throwing your hands in the air.
Nutritional information
Ingredients: Beef, brown sugar, teriyaki sauce (tamari sauce (water, soybeans, salt, alcohol), water, organic sugar, organic honey, sake (water, rice, salt), apple cider vinegar, garlic puree (garlic, water). rice vinegar, ginger puree (ginger, water, salt), plum juice concentrate, inactive yeast, canola oil, arrowroot, xanthan gum, spices), tamari sauce (water, soybeans, salt, alcohol), garlic, ground ginger, vinegar, molasses, paprika, onion, natural smoke flavor, spices, chili powder, sea salt, cloves
Contains: Soy
Package size: 2.0-oz
Heat Level:
0 - Mild
10 - Extremely Hot
Bruet
Very spicy which I was surprised and and very chewy. Considered returning.