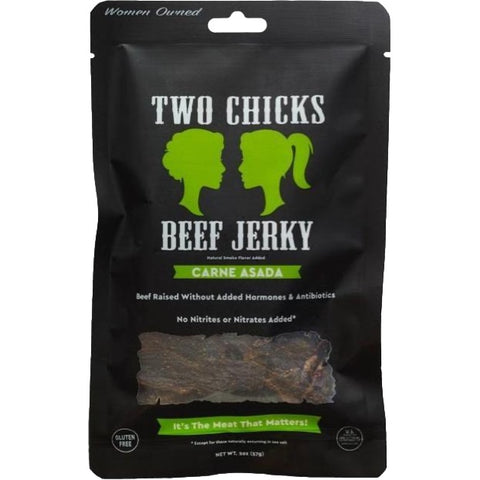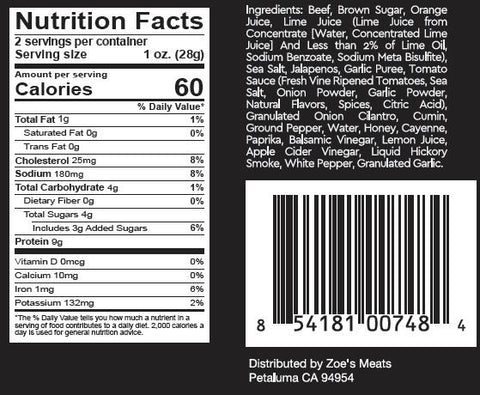 Two Chicks
Two Chicks Beef Jerky Carne Asada, 2.0-oz
A zesty and juicy explosion of flavor that includes tastes of cilantro, orange juice, lime, jalapeños, cumin, garlic, and tomato sauce. A delicious and unique take on carne asada that's unlike anything you've had before!
Nutritional information
Ingredients: Beef, brown sugar, orange juice, lime juice (lime juice from concentrate [water, concentrated lime juice], and less than 2% of lime oil, sodium benzoate, sodium meta bisulfite), sea salt, jalapenos, garlic puree, tomato sauce (fresh vine ripened tomatoes, sea salt, onion powder, garlic powder, natural flavors, spices, citric acid), granulated onion, cilantro, cumin, ground pepper, water, honey, cayenne, paprika, balsamic vinegar, lemon juice, apple cider vinegar, liquid hickory smoke, white pepper, granulated garlic.
Package size: 2.0-oz
Amazing Flavor! Super Tender!
This Jerky truly lived up to all the great things I had read online. It was extremely tender (almost sticky - which to me is good) and was full of flavor with each bite. I will definitely purchase this again and can't wait to try the other flavors! I did eat this in one sitting but I think it would have been nice to have a zipper lock on it in case I wanted to savor the pieces for a little longer.
Hey! Glad to hear Two Chicks Carne Asada tasted delicious and lived up to the hype. It's one of our favorites as well. We appreciate your feedback and look forward to you trying more flavors. Happy chewing! - JerkyGent Team