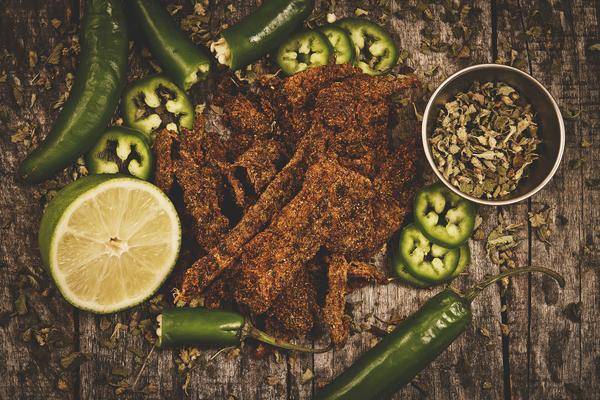 It's hard to resist the zesty bold flavors of jalapeño beef jerky! If you love jerky with a medium spice level and the perfect amount of heat, you've got to try one of the bags featured below. 
3 Of The Best Jalapeño Beef Jerky Flavors
1. Savage Jerky's Mojo Jalapeño Beef Jerky 
Savage Jerky presents a bold, new twist on traditional jalapeño beef jerky. They add a kick of mojo and lime flavor, combined with fresh jalapeños and serrano peppers, to deliver one satisfying spicy jerky. It's perfectly balanced with both bold flavor and medium heat. Check it out! 
2. Wicked Cutz Volcanic Jalapeño Beef Jerky 
Prepare yourself for a spicy volcanic eruption of jalapeño flavor! This jerky is tender, juicy, and oh so spicy. It's also a bit smokey, as Wicked Cutz uses natural smoke in their recipes. They always use premium beef and high-quality ingredients too, so you know it will be good! Learn more here. 
3. Riley's Natural Style JalapEño Beef Jerky
If you love a tougher, natural-style beef jerky, Riley's jalapeño flavor is the perfect jerky for you. It's made with solid cuts of high-quality beef. It starts out tough, but after a few seconds it pulls apart and softens up. Just give it a couple bites and you'll quickly become impressed with both the flavor and quality. It's a true, homemade-style jalapeño beef jerky. Find out more!
Want to explore more flavors of beef jerky? Shop our curated collection of the best-tasting brands and flavors of beef jerky at the JerkyGent Shop. Also, let us know which of these flavors you like best in the comments below!