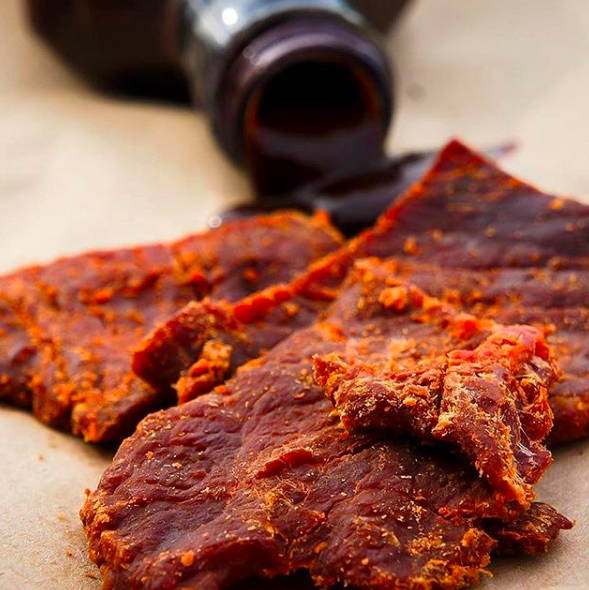 You can't go wrong with the smoky and sweet flavors of BBQ flavored beef jerky. Many artisan beef jerky makers have spent years perfecting their barbeque beef jerky recipes. We've searched high and low to find the best of the best! Below are some of the best brands and flavors of BBQ beef jerky currently on the market. 
6 Best BBQ Beef Jerky Brands & Flavors
1. Savor Gourmet BBQ Brisket Beef Jerky
If you love tender jerky, you've got to try this one! Savor Gourmet has perfected their tender BBQ brisket beef jerky. It's perfectly balanced with just the right amount of smoky, savory, and sweet flavors. Perfect for fans of traditional BBQ flavors. Learn more here! 
2. Righteous Felon Baby Blues BBQ Beef Jerky
This BBQ jerky is for you, spicy lovers! Using a sweet kick BBQ blend, this jerky starts off mild but finishes with a slow burning heat of habaneros and serranos. The tender texture and bold flavor makes it a JerkyGent fan favorite.
You can find it on sale now! 
3. BrockHouse Smoked BBQ Peach Hickory Beef Jerky
This limited-edition, smoked BBQ Peach and Hickory jerky only comes around once a year in the summer! It's smoked with real hickory wood and fresh peaches. We recommend you stock up when it's available because it will keep you craving more. Learn more! 
4. Van Smokey Deep In The Red Hatch Chile BBQ Beef Jerky
Smoked in a custom smokehouse, using real hickory wood, Van Smokey delivers a crowd-pleasing Red Hatch Chili BBQ rub beef jerky that impresses just about everyone who tries it! You can thank us later for finding this one! Shop now. 
5. Wicked Cutz BBQ Mesquite Premium Beef Jerky
Get ready for a saucy and savory explosion of Kansas City Mesquite BBQ! Doused in flavorful BBQ sauce, BBQ lovers nationwide appreciate this tender steak-like beef jerky. Find it here! 
6. Tong! Sriracha Style BBQ Steak Jerky 
Another great option for spicy lovers! Tong's Sriracha style BBQ jerky is a fiery fusion of sweet BBQ and blistering heat. This incredibly tender jerky delivers a blissful balance of sweet and heat! Order it today here.