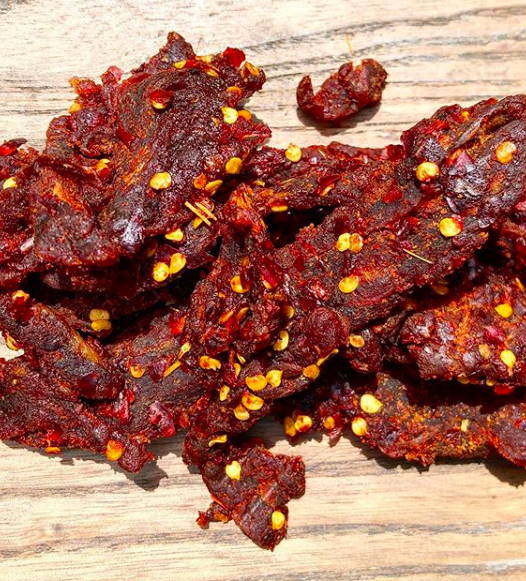 Did you know the Carolina Reaper is the world's hottest pepper? If you're brave enough to withstand the extreme ear-ringing heat, you've got to try beef jerky infused with Carolina Reaper peppers. It's the hottest beef jerky known to man! Several popular craft jerky brands produce the flaming hot jerky. Below is everything you need know about how to prepare, where to find it, and what to expect when trying the world's spiciest beef jerky! 
Everything You Need to Know About Carolina Reaper Beef Jerky - The World's Hottest Beef Jerky! 
Warning: Before you try Carolina Reaper Beef Jerky, make sure you have a gallon of milk or plenty of water on hand. Also, we recommend having bread or rice near by... as it will help cool the fiery blaze inside your mouth after you take your first couple bites.  
Some of the best craft beef jerky makers produce Carolina Reaper infused beef jerky, including Savage Jerky, Wicked Cutz, and Righteous Felon. Also, on our shop we offer a limited-edition JerkyGent Inferno Box, where you can challenge yourself or your friends to eating 4 of the hottest beef jerkies. Take your pick below!  
1. Savage Jerky Co. Reaper Premium Beef Jerky 
One of our best sellers - it's top rated by our customers! Made with tender brisket, this Carolina Reaper infused beef jerky delivers an extreme heat that burns to the core. Buckle up and expect an eruption. Add a bag to your cart here. 
2. Wicked Cutz Carolina Killa Beef Jerky 
Get ready for a trifecta of heat! Wicked Cutz's Carolina Killa is made with not one, but THREE of the HOTTEST peppers in the world: Carolina Reaper, Scorpion, and Ghost Peppers! This extremely spicy beef jerky delivers a heat that you'll feel for hours! Only for the bravest and most heat-tolerant jerky eaters. Grab a bag here!
3. Righteous Felon VooDoo Chile Beef Jerky 
A face-melting medley of Carolina Reaper, VooDoo Chile sauces, and a generous dose of garlic. It's made by the popular craft jerky brand, Righteous Felon. You'll taste an outrageous amount of heat and toasted garlic in every bite. Find it on the JerkyGent shop! 
Not sure how much heat you can handle yet? Test your spice tolerance by taking the Inferno Box Challenge! The JerkyGent Inferno Box includes 4 of the hottest bags of beef jerky in the world. Starting with a manageable Two Hot Chicks Habanero flavor, then working your way to an insanely spicy blast of Carolina Reaper - featured in a bag of Savage Jerky Co.'s Reaper. Learn more here! 
Each bag of Carolina Reaper beef jerky delivers an eye-burning and ear-blowing sensation. Depending on how much you consume and your reaction to extremely spicy favors, the heat can linger in your mouth anywhere from 20 minutes to 2 hours. We recommend washing your hands right after eating the beef jerky, as your eyes can become irritated if you rub them with your hands. 
Overall, it's an experience we recommend to any spicy beef jerky lover. To say you've tried the world's hottest beef jerky is quite an accomplishment. Happy chewing!