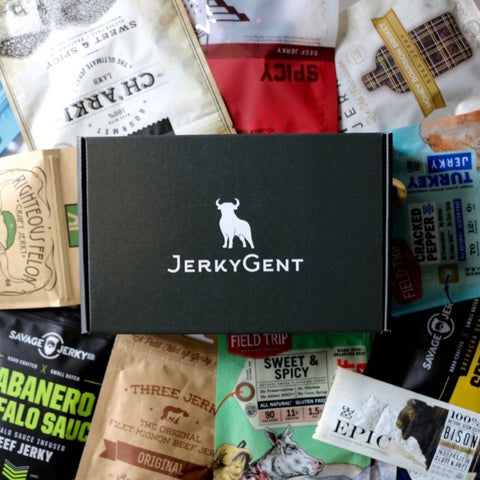 JerkyGent
JerkyGent Mini - Beef Jerky Subscription Box - 2 Bags Per Month
You love beef jerky, but let's face it – you wouldn't waste your time snacking on dull, tasteless jerky. With a JerkyGent subscription box, it's easy to discover and try the best-tasting craft jerky at home. 
Whether you prefer spicy or mild jerky, you'll get to enjoy new brands and flavors every month based on your taste preference. Our experts know the difference between the merely average and the truly exceptional jerky, so your only job is to subscribe and enjoy!
2 bags of craft jerky delivered monthly (~4oz per box).
Skip a month whenever you want.
Cancel your subscription at any time.
Access to Subscriber Pricing on shop orders. Learn more.
Exclusive member-only discounts.
When will my order ship?
Your first box will ship within 1 business day. The monthly boxes to follow will renew on the 10th of each month and will ship within 3 business days.
What is the traditional vs non-traditional flavor preference?
The "Traditional" flavor preference includes more traditional flavors such as BBQ, Original, Teriyaki, Hickory, etc... While the "Non-Traditional" flavor preference will include more unique flavors, such as Truffle, Mojo, Buffalo, Bloody Mary, etc... We recommend selecting "Try Them All" for the full experience!
Nutritional information
Ingredients:
Package size:
10/10
It was a bad day to be beef jerky the day it arrived
Love the service so far, except for.....
Thank you for reaching out. I love the concept of the subscription and have received it for a few months. However, this last order, I received a pork based jerky. I don't eat pork so is there anyway to request "no pork" in my upcoming orders?
Thank you,
Brandon
Great gift idea
I signed my dad up for the jerky club for his birthday and Christmas. He loves the jerky and likes to let me know which flavors are his favorite each month. It's a fun surprise every month for him.
Impressed!
I'm impressed with the selection of jerky offered in each box. I'm on my 3rd shipment and the jerky seems to keep getting better every month. The brands are awesome and most I've never heard of before. It's cool to try new ones from different parts of the country. Cheers!
Love trying new brands!
Great value, and love getting to try new brands from all over the country. Exciting to open every month!