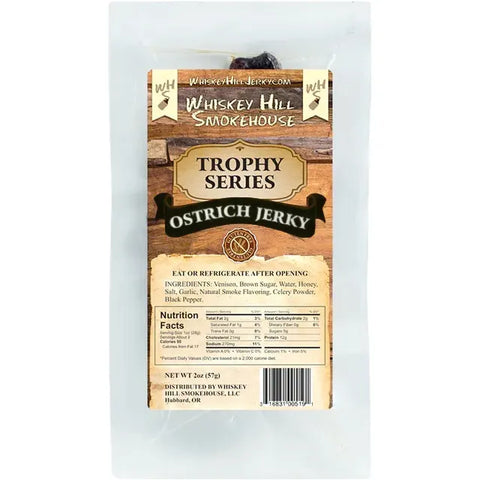 Whiskey Hill Smokehouse
Ostrich Jerky - Whiskey Hill Smokehouse Exotic Jerky, 3.0-oz
Experience a uniquely delectable treat that merges the lean profile of ostrich meat with the traditional goodness of beef jerky. Ostrich meat, known for its rich, slightly sweet flavor and tender texture, offers a refreshing twist to the classic jerky taste. Low in fat and rich in protein, this jerky captures the distinctive essence of ostrich, making it an unforgettable snack for the adventurous palate. Every bite reveals a blend of robust earthiness and subtle hints of sweetness, setting it apart in the world of dried meats. Dive into a taste adventure with Ostrich Beef Jerky!
Nutritional information
Ingredients: Ostrich, brown sugar, water, honey, salt, garlic, natural smoke flavor, celery powder, black pepper.
Package size: 3.0-oz