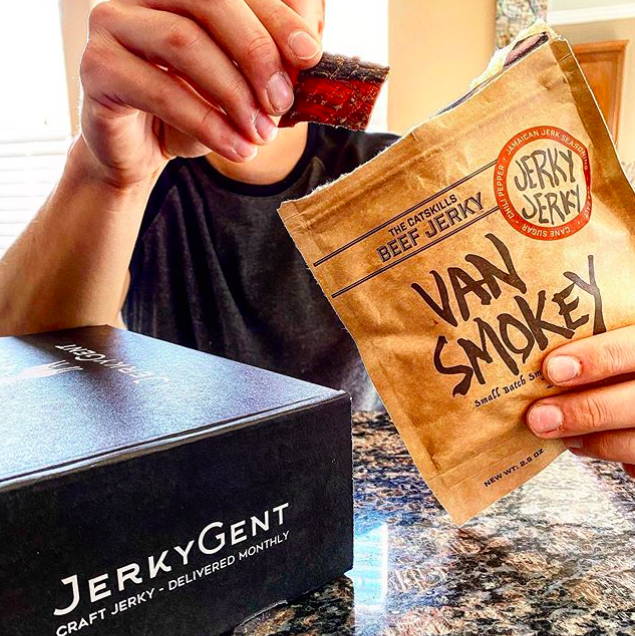 Searching for the best beef jerky gift? You can't go wrong with these delicious beef jerky gift ideas. Below are 4 of the best beef jerky gift ideas. Go ahead, treat a loved one, family member, or friend to great-tasting beef jerky! 
4 Of The Best Beef Jerky Gift Ideas 
1. A Monthly Beef Jerky Subscription Box
Treat someone to delicious beef jerky delivered monthly with a prepaid gift subscription, here. For example, you can gift someone a prepaid 3,6, or 12-month subscription. Gift subscriptions are a one-time purchase and automatically end on the last month. 
You'll get to treat someone to new brands and flavors of beef jerky from across the country each month. Plus, the first box includes a gift note from you - and you can pick your ship date at checkout.
Looking to gift just one-month? Select the one-month gift box option and the subscription will automatically end after the one box ships. Learn more. 
2. Inferno Hot & Spicy Beef Jerky Gift Box
Know someone who loves extra spicy beef jerky? Gift him or her the ultimate hot and spicy beef jerky challenge! Your family member or friend will get to try 4 of the hottest bags of beef jerky known to man. Working their way up to the spiciest bag of beef jerky - featuring extremely hot Carolina Reaper peppers. Find out more!
3. Build Your Own Beef jerky Gift Box
Want to build your own beef jerky gift box? Select from over 150 different beef jerky brands and flavors to be featured inside a gift box. For example, if you know your loved one only likes teriyaki or habanero flavors, you can load up their gift box with only those kind of beef jerky flavors. Online shop orders ship within 1 business day and deliver in 3-5 business days. Shop now.
4. E-Gift Card TO Delicious Beef Jerky
Gift someone a golden ticket to pick from 150+ beef jerky bags from our online shop. E-gift cards can be emailed to someone right away - so they can shop for delicious jerky on their own time. Or you can have the e-gift card emailed to yourself and print it out to give to them. A perfect gift option for picky beef jerky eaters or someone who is hard to shop for! You can find e-gift cards here. 
Want to explore more beef jerky gift ideas? Browse our website at JerkyGent.com to find even more great beef jerky gift box ideas. Enjoy!