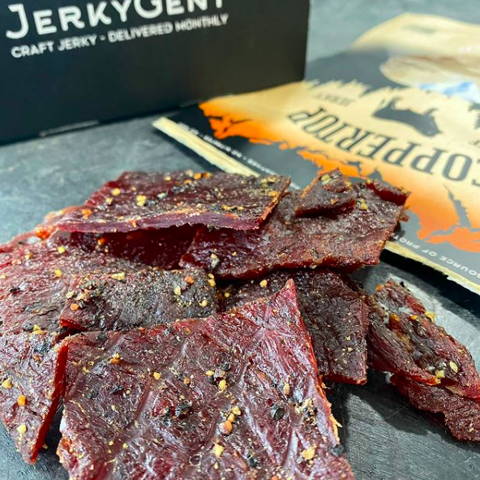 Looking for the perfect gift for dad? Beef jerky makes a great gift for dads who are difficult to shop for or have it all! There's dozens of delicious brands and flavors of beef jerky for him to discover. Below is a list of the 5 best beef jerky gifts for dad this Father's Day or any holiday! 
5 Of The Best Beef Jerky Gifts For Dads!
1. A Monthly Subscription To Beef Jerky! 
It's the gift that keeps on giving! Dad will appreciate you gifting him a prepaid subscription to great-tasting beef jerky. You can choose to gift 3, 6, or 12 months worth of jerky! Every month he'll get to try new delicious brands and flavors. You can even customize his subscription. He can be sent only mild (or only spicy) jerky depending on his spice preferences! We recommend selecting "try them all" to give dad the full experience!
Explore subscription plans here.  
2. JerkyGent Father's Day Craft Jerky Gift Box
During Father's Day, we offer a limited-edition craft jerky gift box! This gift box is only available around Father's Day (May - July). This special gift features 7 of the best-tasting craft jerky brands and flavors for dad to feast on. From BBQ pit-smoked to green hatch chile, all the jerky bags are full-size and taste incredible. You also have the option of upgrading him to a subscription as well. Dad will get the Father's Day box the first month (7 bags) followed by classic subscription boxes (4 bags) the remaining months. You can find it here.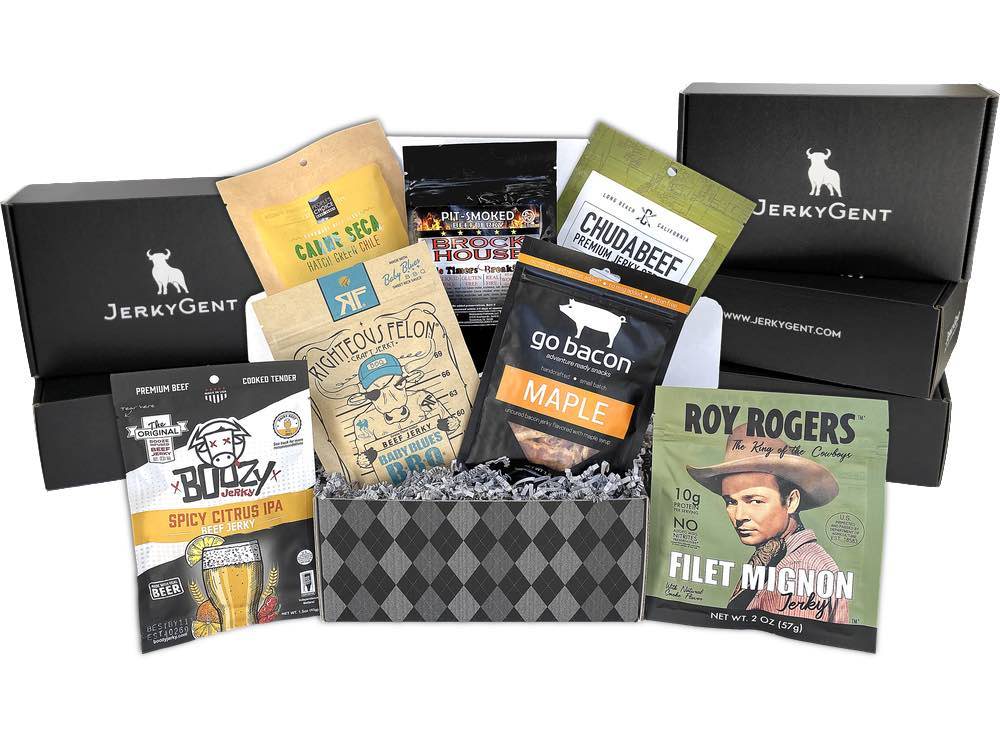 3. Pick Out Your Own Beef Jerky For Dad 
Know exactly what kind of jerky he loves? Pick out his favorite flavors on our online shop. For example, if you know dad loves teriyaki jerky, you can order him only teriyaki flavors. We carry over 150+ unique flavors of craft jerky. You can search by mild, medium, or spicy flavors. You can also search by gluten-free or low-sodium. Check it out! 
4. JerkyGent Inferno Gift Box (Warning: Spicy!)
This gift is perfect for spicy lovers! Challenge dad to trying 4 of the hottest bags of jerky on the planet. The hottest bag of jerky is infused with the Carolina Reaper pepper. This gift box is very popular with spicy lovers (and typically sells out fast due to having limited stock on hand). Order it while you can here. 
5. JerkyGent Beef Jerky e-Gift Card
Still unsure about what to gift dad? You can't go wrong with a JerkyGent e-gift card. The e-gift card can be emailed to you (or him). You can even print out the gift card and include it inside a greeting card. You can choose to gift him $25-$200 worth of delicious jerky. This way Dad can shop online and pick out his own bags of jerky. Click here to learn more! 
Want to explore more beef jerky gifts for dad? We offer more awesome beef jerky gifts at JerkyGent.com!