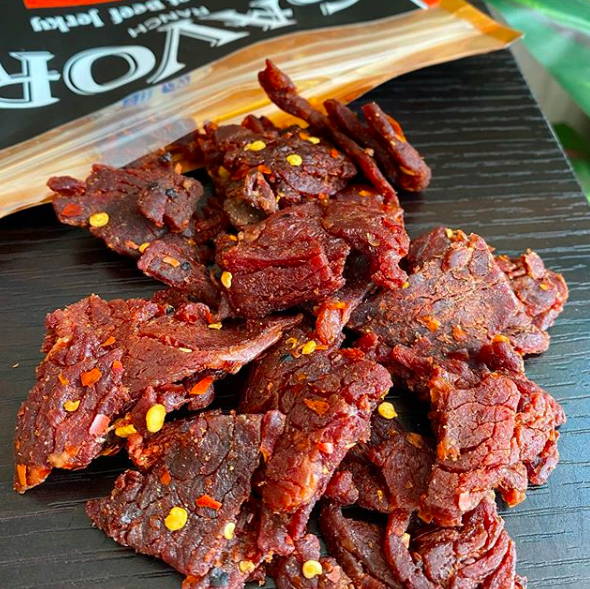 Spicy lovers, rejoice! We've narrowed down the 12 best hot and spicy beef jerky brands. Prepare for an explosion of heat, as you savor the best spicy beef jerky flavors from artisan jerky makers across the country. Flavors range from medium to extreme spice levels. We can't wait for you to dig in!
The 12 Best Spicy Beef Jerky Brands & Flavors


1. Two Hot Chicks Habanero beef Jerky
Looking for a perfectly balanced spicy jerky? If so, Two Hot Chicks' Habanero flavor is for you! It's a well balanced spicy jerky that's sure to keep you coming back for more. Made with 100% grass fed beef, this jerky offers a delicious smoky flavor with a kick of habanero heat. Find it here.
2. Righteous Felon VooDoo Chile Beef Jerky
If you're craving some extreme heat, than you've got to try Righteous Felon's VooDoo Chile flavor. It's made with the hottest pepper in the world - Carolina Reaper. A tender garlic-infused jerky with a facemelting burn. We recommend having a glass of water or milk near by when trying this one! Grab a bag here.
3. Savor Gourmet Hot BBQ Brisket Jerky
Made with delicious brisket, this jerky is very tender. It's loaded with a smoky hot BBQ flavor, followed by a lingering heat. We highly recommend trying this one. It's perfect for BBQ and brisket lovers. You can find it here.
4. Savage Jerky Co. Reaper Beef Jerky
This one is also infused with the hottest pepper known to man, the Carolina Reaper! Handcrafted with premium tender brisket, this bag of beef jerky has a nice tender texture and extreme heat. Prepare for a stinging burn that could last 20 minutes of more.Check it out.
5. Jerky's Gourmet Habanero Sculpin Beef Jerky
Marinated for 48 hours in Ballast Point's Habanero Sculpin IPA, this jerky delivers a truly unique take on spicy beef jerky. It delivers a burst of heat combined with a delicious hoppy flavor. We recommend ordering a bag and trying it for yourself.
6. Think Jerky Sweet Chipotle Beef Jerky
This jerky is lightly sweet with some smoky mild chipotle heat! As soon as you open the bag, you will smell a delicious aroma of fresh raspberries and smoky flavors. One of our favorites - so make sure to check it out.
7. Johnny Mac's Tri Tip Sizzlin' Southwestern Beef Jerky
Made with the king of BBQ meats... premium Tri Tips! A one-of-a-kind beef jerky that delivers some serious heat. It also has a delicious peppery, mildly sweet taste. Bags are on sale for only $5.25 here.
8. Wicked Cutz Carolina Killa Beef Jerky
Just by looking at the bag, you can tell this jerky will be WICKED HOT! It's made with three of the hottest peppers: Scorpion, Carolina Reaper, and Ghost Pepper. It has an extreme heat that will last for hours. Dare to try a bag? Find it here!
9. Savage Jerky Co. Mojo Jalapeno Beef Jerky
Made with zesty jalapenos and serrano peppers, this tender jerky features a delicious medium spice that will keep you reaching for the bottom of the bag. It also includes a hint of fresh lime flavor. Find out more.
10. ChudaBeef OG Spicy Beef Jerky
Looking for a signature spicy jerky? Chudabeef offers their flavor OG Spicy - a traditional jerky with a satisfying burn. It's made with all-natural ingredients and it's gluten-free too. Check it out here.
11. Tong! Sriracha Style BBQ Beef Jerky
Sriracha lovers, this beef jerky is made for you! Get ready for a spicy fusion of sweet BBQ and tongue-biting sriracha heat. It's a healthy snack too, as it's packed with 17g of protein.Find out more.
12. Cattaneo Bros. Chile Cayenne Beef Jerky
Made from grass-ed top rounds, sliced in solid strips, marinated without sugar or nitrates. Some of the purest jerky you can find. Learn more.
Looking for more spicy beef jerky? Check out our
online shop!
Or sign up for a monthly subscription to spicy beef jerky
right here!
Each month, you'll get to try new brands and flavors of great-tasting hot and spicy beef jerky.
Let us know which spicy flavors sound the best in the comments below!