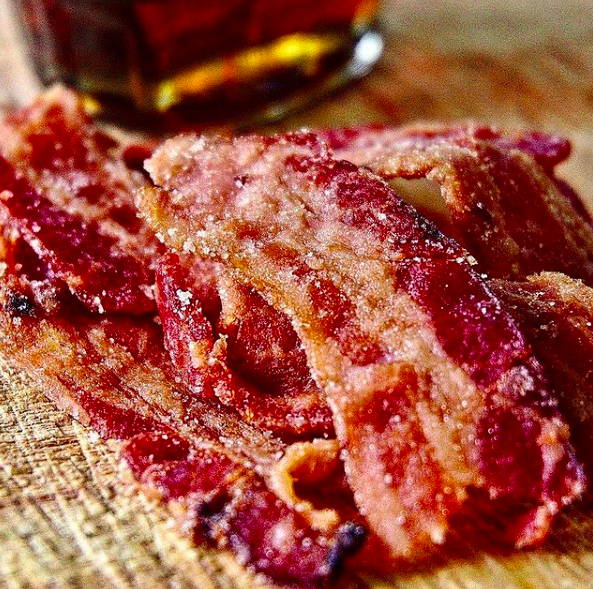 It's hard to resist a bag of tender bacon jerky! We've searched high and low for the best-tasting bacon jerky brands on the market. If you love bacon, then you have to try these delicious bacon jerky flavors. Go ahead, treat yourself! 
Top 6 Best Bacon Jerky Brands & Flavors
1. GoBacon Maple Bacon Jerky  
You can't go wrong with a sweet maple bacon jerky! GoBacon has perfected their recipe with this bag of bacon jerky. It's super tender and flavored with delicious maple syrup. We have to keep this jerky under lock and key or we wouldn't have any left to ship out. Grab a bag here. 
2. Savage Jerky Maple Buffalo Bacon Jerky
Another maple bacon favorite with a spicy kick! This bacon jerky is marinated in made-from-scratch buffalo wing sauce and spiked with a dose of maple syrup. It's rated 5 stars on our online shop and typically sells out fast. As one of our customers has said, "This maple bacon jerky is so delicious! Life's short, treat your tastebuds!" We recommend stocking up here. 
3. Tiki HAwaiian Luau BBQ Bacon Jerky 
Inspired by exotic luau bbq flavors from the Hawaiian islands! Tiki Hawaiian offers a zesty and tangy bbq bacon jerky with a hint of mesquite bbq flavor. It's gluten-free and made with natural ingredients. Trust us, these full strips of bacon are bursting with delicious flavor. Try a bag for yourself! 
4. GoBacon Sriracha Bacon Jerky 
A bacon jerky that's perfect for spicy lovers! Savor these thick cut slices of bacon drenched in sweet and spicy sriracha sauce. Your tastebuds will thank you for the spicy kick this jerky delivers. It comes a nice portable bag that's perfect for traveling. Order a bag today! 
5. Jerky's Gourmet Maple Bacon Jerky 
Marinated for 48 hours in delicious maple syrup! This sweet and savory bacon jerky is bursting with flavor that will keep you coming back for more. It's contains only premium bacon that's  gluten-free, soy-free, and all-natural. Plus it's packed with over 14 grams of protein. Check it out. 
6. Tiki Hawaiian Tsunami Sriracha Bacon Jerky  
Another great option to satisfy your bacon cravings! Tiki Hawaiian crafted this bacon jerky with a combination of spicy Asian and Hawaiian island flavors. These hardy bacon strips are marinated for 24 hours in a spicy gluten-free, house-made sriracha sauce. Learn more here!
Want to explore more flavors of bacon jerky? Shop our curated collection of the best-tasting bacon jerky on the online JerkyGent Shop. Also, let us know which bacon jerky flavors you like best in the comments below!