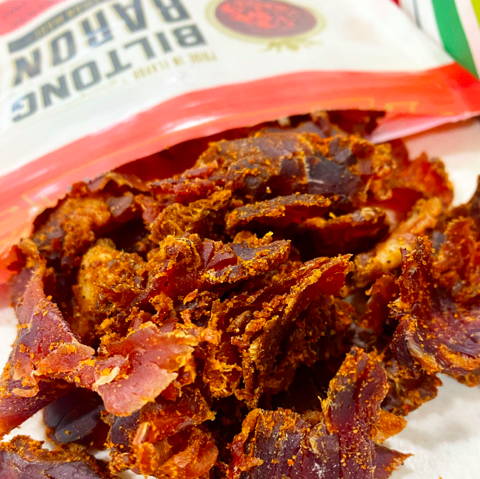 Looking for the best biltong? Biltong is quickly becoming one of the most popular and healthiest snacks on the market. Most biltong brands are sugar-free, carb-free, and packed with tons of protein! Biltong is typically marinated for 24 hours and air-dried for days. Below are 10 of the best biltong brands and flavors right now. 
10 of the Best Biltong Brands and Flavors
1. Stryve Original Beef Biltong 
The OG of beef biltong! These delicious air-dried, high-quality steak slices are made with only simple ingredients. Beef, vinegar, and spices - that's it! The best part? It's packed with 16g of protein. Plus, it's sugar-free, gluten-free, and contains 0 carbs. If you're craving an original steak taste, Stryve Original is the perfect flavor for you! Find it here. 
2. Brookyln Biltong Peri Peri Chili 
Looking for more spice? Loaded with garlic and chilis, this spicy flavored biltong will satisfy your cravings for a spicy and healthy snack. Made without artificial ingredients, this bag of biltong is some of the purest biltong on the market. The strips of beef are both tender and seasoned with the perfect amount of heat. Check it out!
3. Biltong Baron Signature Flavor
Biltong Baron's signature handcrafted recipe features cracked black pepper and toasted coriander. A great gluten-free snack that's loaded with an impressive amount of protein at 32g! Find out more.
4. Righteous Felon Ancho Villa Biltong 
A great choice for spicy lovers! Righteous Felon recently launched this tender, delicious, and spicy bag of biltong less than a year ago. It's a revolutionary biltong recipe crafted with ancho, chipotle, cayenne, and habanero peppers. If you're looking to try some great-tasting steak bites with a spicy kick, this biltong is the one for you. You can find it here. 
5. Brooklyn Biltong Steakhouse 
This steakhouse recipe is super savory and highly addictive! Bursting with garlic and paprika, this biltong tastes just like the steak you crave at your favorite steakhouse restaurant. With zero sugar, zero corn syrup, and no artificial ingredients. Perfect for those on the Whole 30 or Keto diet too! Order a bag today and try it for yourself. 
6. Stryve Hickory Beef Biltong 
Bursting with a rich hickory taste! You'll enjoy savoring this bag of tender beef biltong created with only all-natural ingredients. Perfect for those who love smoky and hickory BBQ flavors. This biltong is both hearty and filling. And the best part, it's guilt-free with zero sugar and zero carbs. Start digging in! 
7. Nelson Mandilla Beef biltong
There's dill flavored potato chips... so why not dill flavored beef?! Prepare to be impressed with this biltong flavor featuring dill, black pepper, red wine vinegar, and peppercorn. Nom, nom! Made with the South African method for making biltong, this flavor is one of the newest addition to Righteous Felon's line-up. You can find it here. 
8. Brooklyn Biltong Lemon Pepper 
Clean and zesty - with some added lemon, pepper, and onion flavor! You'll truly appreciate this flavor of biltong that's bursting with a refreshing lemon pepper flavor. It's marinated for hours and is super tender making it a great snack for on-the-go or working from home. Find out more.
9. Biltong Baron Fire In The Hole 
Packed with spicy cayenne pepper! Biltong Baron makes their biltong with only a very small amount of ingredients that you can count on one hand, making it the purest biltong on the market! For fiery slices of air-dried steak, look no further than Fire in the Hole! 
10. Stryve Spicy Peri Peri Beef Biltong 
Last but definitely not least! Stryve delivers an unbelievably delicious spicy biltong that is "nice and hot" without burning your tastebuds. They make their biltong with the highest-quality steak and no additives. Stock up as it typically sells out fast! 
Looking for more great-tasting brands and flavors of biltong? We carry dozens of biltong bags on our online shop at JerkyGent.com. Also, let us know your favorites in the comments below. Happy chewing!