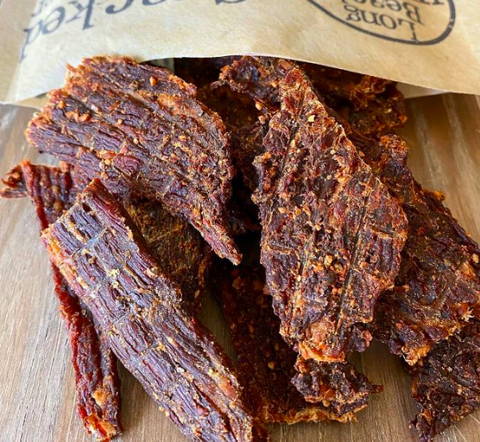 Who can resist brisket? Let alone a bag of delicious brisket beef jerky! Brisket makes some of the most tender and flavorful beef jerky on the market. It's typically marinated for over 24 hours and handcrafted to perfection. Prepare to indulge in 7 of the best brisket beef jerky brands and flavors. 

7 of the Best Brisket Jerky Brands & Flavors
1. Tiki Hawaiian Sunset Teriyaki Brisket Jerky 
Inspired by the flavors of Hawaii, this bag of brisket jerky is super tender and bursting with delicious pineapple and teriyaki flavor. It's a touch sweet, but also very savory. It's made with only fresh and natural ingredients. You can find it here. 
2. Savor GOurmet Hot BBQ Brisket Jerky 
Ready to turn up the heat? Savor Gourmet delivers an excellent Hot BBQ Brisket Jerky that will keep you coming back for more. It's perfectly seasoned with bbq sauce, crushed red chili peppers, and cayenne peppers. This melt-in-your-mouth bbq brisket is sure to have you tastebuds tingling with great-tasting flavor. Learn more. 
3. Savage Jerky Co. Mojo Brisket Jerky  
For a zesty kick of flavor, you've got to get your hands on Mojo by Savage Jerky. This popular brisket jerky is marinated in a zesty blend of garlic, lime, and cilantro. Plus, it's made with whole cuts of premium beef brisket, so each bite is delicious and hardy. Find out more!
4. Jed's Jerky Sweet & Spicy Beef Brisket 
Indulge in one of the best sweet and spicy beef jerky bags. Jed's Jerky delivers an award-winning brisket jerky that is sure to make you crave time and time again. It's handcrafted in small batches, so you know it's going to be good. Prepare to taste the difference. Check it out. 
5. Long Beach Buffalo Wing Brisket Jerky 
With a tougher texture, Long Beach Jerky Co. has perfected this savory Buffalo Wing brisket beef jerky recipe. They use only top quality brisket and marinate it in a homemade buffalo wing sauce. You can taste the quality in every bite. Try a bag for yourself here. 
6. Savor Gourmet Mango Spice Brisket Jerky 
Prepare your tastebuds for an explosion of tropical flavor! This exceptionally tender beef brisket is loaded with mango flavor and spiked with crushed red pepper for a sweet and topical bite. It's rated 5-stars on by our members! 
7. Savage Jerky Co. Cracked Pepper and Sea Salt
Love a good traditional jerky? Savage Jerky Co. has crafted an outstanding brisket jerky flavored with freshly cracked peppercorn and coarse sea salt. Perfect for any jerky lover who loves a bold, classic flavor. Order a bag today. 
Looking for more of the best brisket beef jerky? We carry many brisket jerky brands and flavors on JerkyGent.com. Let us know your favorite bag of brisket jerky in the comments below!