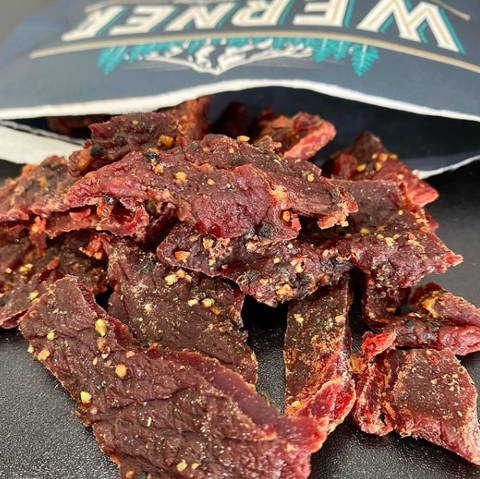 Trying to cut carbs? Beef jerky is a great way to snack guilt-free! Many craft jerky brands contain zero carbs or a small amount. Below are the top 8 best low carb beef jerky brands and flavors. 
8 Of The Best Low Carb Beef Jerky Brands
With zero carbs, zero sugar, and 18g of protein, Werner Salt & Pepper beef jerky delivers an incredibly delicious and healthy snack that keeps you coming back for more. The perfect meaty texture and savory taste makes this beef jerky a great snack for any adventure. The best part? All of Werner's jerky flavors contain NO carbs and sugar! Find out more. 
2. People's Choice Beef Jerky 
People's Choice delivers an original family recipe that has been handed down for 90+ years. Both their original and hot & spicy flavors are carb-free. They are also sugar-free and low calorie (only 90 calories per serving)! This super lean and pure beef jerky is some of the healthiest on the market. Explore more flavors here.
3. PEak Pastrami Beef Jerky 
This simple recipe captures the taste of deli style pastrami! Even better, it's carb-free, sugar-free, and tastes amazing! If you love the taste of pastrami, you'll love this bag of tender beef jerky. It's made with very simple ingredients and no preservatives. Order a bag today!
4. El NortENo Mexican-Style Beef Jerky 
A thinly-sliced beef jerky that makes a great snack. With only 1.5g of carbs (and an added bonus - a hot sauce packet!) you simply can't go wrong! If you're craving some spice, just add a couple drops of the hot sauce on this original flavored beef jerky. It's also packed with 24g of protein! Check it out here. 
5. Cattaneo Bros. Range Beef Jerky 
Made with 100% grass-fed beef and 1 gram of carbs, Cattaneo Bros. delivers several premium, high-quality beef jerky flavors. And the best part, their beef jerky is extremely healthy and packed with tons of flavor. If you're craving some spice, their Chipotle flavor is a great choice! You can browse all their flavors here. 
6. Jerky's Gourmet Premium Beef Jerky 
If you love a good peppered jerky, you've got to try Jerky's Gourmet Black Pepper. This beef jerky a great low carb option - with only 1g of carbs. You can snack guilt-free at home or on-the-go. It's made with 100% grass-fed premium beef, giving this jerky a perfect meaty texture with a great peppery taste. 
7. C-Star provisions Angus Beef Jerky 
C-Star Provisions brings steakhouse quality to their beef jerky. Thickly sliced, their jerky is both hardy and delicious. Their zesty Chimichurri flavor contains only 2g of carbs. It's a great-tasting blend of garlic, herbs, and premium angus beef. Find out more here!
8. Bogey's Premium Beef Beef Jerky 
Crafted with a secret recipe of chilis, garlic, and hints of apples and raisins. This bag of jerky is both savory and spicy. It's cooked with real smoke and offer a touch of manageable heat. Their beef jerky contains only 2g of carbs and very little sugar.
Grab a bag today. 
Want to discover more low carb beef jerky? Find more brands and flavors on our online shop! Let us know your favorite low carb (or zero carb) beef jerky in the comments below too.