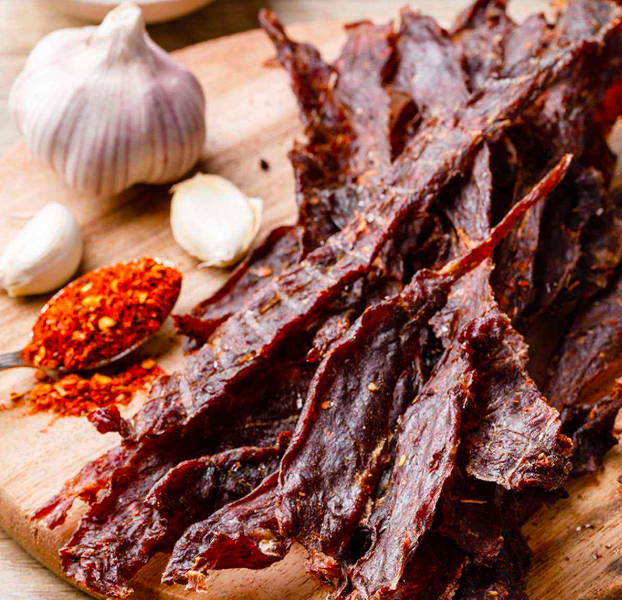 Garlic lovers, rejoice! We've searched high and low for the best-tasting garlic beef jerky flavors. Prepare to feast on some of the freshest garlic beef jerky. Each bag is handcrafted to perfection and filled with delicious garlic flavor. Below are 5 of the best garlic beef jerky brands and flavors. 
5 Of The Best Garlic Beef Jerky Flavors
1. People's Choice Garlic Ginger Beef Jerky
A favorite among garlic lovers! People's Choice handcrafts their Garlic Ginger beef jerky in small-batches in Los Angeles, CA. The jerky features a savory blend of garlic, ginger, and sesame flavors. It's made the old-fashioned way, so it has more of a tougher bite. Try it for yourself here.
2. Boozy Jerky Rosemary Garlicky PilsNer 
Any beer drinker will appreciate this garlic jerky. It's made with the perfect combination of rosemary and garlic - and infused with pilsner beer! Plus, it's packed full of mouthwatering garlic flavor. Made to pair perfectly with your favorite lager or wheat beer. Check it out. 
3. Bogey's Premium Gnarly Garly Beef Jerky
Prepare to indulge in a tender, traditional jerky with a garlic twist. Bogey's Beef marinates their jerky in a secret sauce with a touch of habanero and garlic. If you love a traditional garlic jerky with some spice, then you've got to try a bag of Gnarly Garly here.
4. PaPa's Best Batch Hot Garlic Beef Jerky
Made with large slices of premium top round beef, marinated in a blend of molasses, balsamic vinegar, and fresh garlic. It's a medium heat that is a touch sweet. A one-of-a-kind taste every garlic lover must try! Order a bag today.
5. Katie's Garlic Lovers Dream Beef Jerky 
Be warned - this jerky is highly addictive! It's infused with generous amount of fresh, roasted garlic. With a thin and tender texture, this jerky will keep you reaching for more. Plus, it's gluten-free and all-natural. Grab a bag here. 
Want to try more garlic beef jerky? You can find over 15 delicious garlic jerky flavors on our online shop at JerkyGent.com. Also, let us know your favorite garlic jerky flavor in the comments below. Happy chewing!