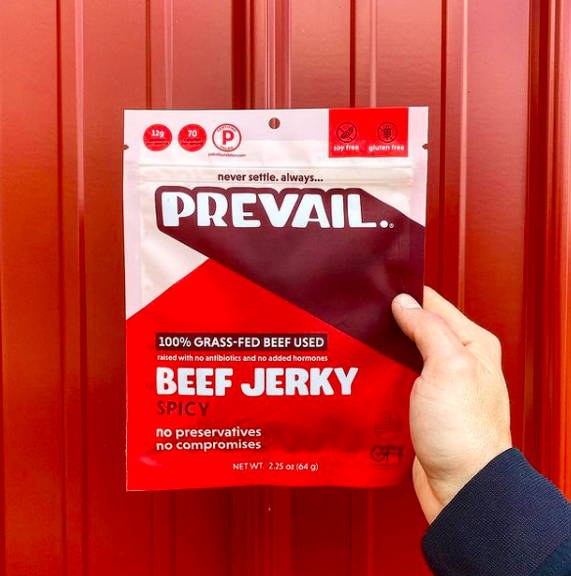 Looking for the best grass-fed beef jerky? Premium grass-fed beef jerky is some of the most delicious and healthiest jerky on the market. We've searched high and low for the best-tasting brands and flavors that use only 100% grass-fed beef. Check out the list below and try some for yourself!
8 Of The Best Grass-Fed Beef Jerky Flavors
1. Think Jerky Sweet Chipotle Grass-Fed Beef Jerky
A customer favorite! Savor this delicious smoky chipotle flavor that's made with 100% grass-fed beef. It's lightly sweet and oh-so-delicious! Made with fresh raspberries, this jerky is packed with spice and a touch of sweetness. You can find it here.
2. Cattaneo Bros. Sea Salt 100% Grass-Fed Beef Jerky
Lightly salted to perfection! Made with some of the highest-quality cuts of premium 100% grass-fed beef top rounds. These steak-like bites are not only hearty but also very savory. The best part? This jerky is sugar-free, gluten-free, and made with no artificial ingredients. Check out this healthy snack here.
3. Field Trip Everything Bagel Grass-Fed Beef Jerky
Yes, this jerky really does taste like an everything bagel and it's delicious! We love that this tender jerky is made with 100% grass-fed beef. It's packed with onion, garlic and poppy seeds. You have to try this bag of jerky at least once. You can find it here!
4. Two Hot Chicks Habanero 100% Grass-Fed Beef Jerky
Spicy lovers, rejoice! Two Hot Chicks features a generous dose of habanero and delicious smoky flavor. It's highly rated among spicy jerky lovers across the country. Once you try a bag, you'll be stocking up time and time again. Try it for yourself! 
5. Brother's Korean BBQ Grass-Fed Beef Jerky 
A touch sweet and bit spicy! Savor these thick slices of 100% grass-fed beef, loaded with garlic, ginger, and soy sauce. They craft their jerky with Fuji Apples and Asian Pears, giving way to a complex Korean BBQ flavor. Trust us, it keeps your mouth-watering. Learn more.
6. HomeGrown Meats Joel's Traditional 
If you love a good traditional jerky, this classic flavor is right for you! Joel's family has been raising cattle on Palomar Mountain in San Diego since the 1800's. They use only the finest 100% grass-fed beef to create their tender classic jerky. Find out more. 
7. Prevail Spicy Grass-Fed Beef Jerky 
Another spicy favorite made with 100% grass-feed beef! Prevail Jerky has a tender texture and bold flavor. It's also gluten-free, soy-free, and made with only natural ingredients. Find out more here.
8. Jerky's Gourmet Smokehouse BBQ Beef Jerky
Love a good BBQ jerky? This smokehouse BBQ flavored beef jerky is tender, smoky, and highly addicting! It's made with 100% pastured raised grass-fed beef. A great tangy BBQ taste that keeps you coming back from more. Check it out!
Looking for more delicious grass-fed beef jerky brands and flavors? We carry more options on our online shop at JerkyGent.com. Also, let us know your favorites in the comments below. Happy chewing!