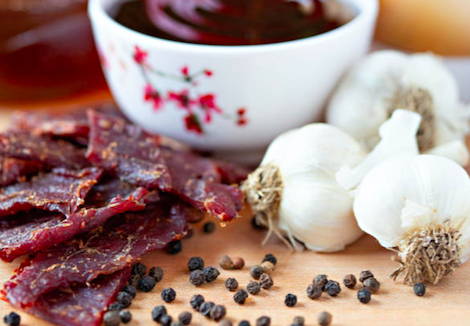 It's hard to resist the sweet and sour, tangy flavor of teriyaki flavored beef jerky. After years of hard work, many artisan beef jerky makers have perfected their recipes. Below are some of the best brands of teriyaki beef jerky.
8 Best Teriyaki Beef Jerky Brands & Flavors
1. Topanga's Finest Gourmet Beef Jerky Teriyaki
Topanga's Finest has been perfecting this authentic teriyaki recipe for over a decade. It's a truly solid option that's hard to beat. It's perfectly balanced with a tender texture that's sure to make your mouth water. We love that it's gluten Free, low in fat, and has no preservatives or antibiotics added. Want to give it a try? Pick up a bag here!

2. Chudabeef Garliyaki Beef Jerky
What better ingredient to pair with teriyaki than garlic?! Based out of Long Beach, CA, Chudabeef Garliyaki has put a unique spin on a teriyaki classic. They've managed to blend two amazing flavors, garlic and teriyaki, to form one of the greatest innovations of our time. If you haven't tried this masterpiece yet, it's definitely time! Shop here.
3. t.o.p. CHOPS Teriyaki Beef Jerky
T.O.P Chops delivers an exceptionally tender teriyaki beef jerky that will almost melt in your mouth. Made with premium beef, you can taste a well balanced flavor of soy sauce, sweetened with pineapple juice, and a hint of brown sugar. It's carefully crafted and marinated overnight with simple, every day ingredients. A great snack option as it's gluten free, all-natural, MSG free, and nitrite free. Not to mention, it comes in a generous-sized bag (2.75 oz). Get it here!
4. Long Beach Jerky Co. Spicy Teriyaki Beef Jerky
If you're looking for a bit more of a kick, you've got to try Long Beach Jerky Co.'s Spicy Teriyaki flavored beef jerky. Spicy beef jerky lovers adore the bold heat this jerky gives off after taking a couple bites. It's both sweet and spicy. Also, it's packed with protein with 14g per bag. Learn more here.
5. Lucky Teriyaki Beef Jerky
We're impressed by this traditional teriyaki blend that's very light on sugar... only has 1g! It's not super sweet like most teriyaki flavored jerkies. It's made with premium Angus beef. Both tangy and delicious, it's tender enough to bite, but tough enough to chew. Order a bag (or three) here.
6. Savage Jerky Co. Teriyaki Beef Jerky
Savage Jerky Co. has hand-crafted, an artisan jerky made with real ingredients that belong in a kitchen. Their classic teriyaki flavor offers a bit of a twist, as they add a touch of fresh ginger. The heat level is mild and the bags are quite large at 2.2 oz. Add it to your cart today.
7. People's Choice Orange Honey Teriyaki
Made locally in L.A., this small-batch jerky starts out with a sweet and subtle tang from honey and fresh orange, and slowly builds into a savory chew that's balanced with soy sauce and spices. One of our customers describes it as, "Yum! People's Choice did not disappoint with this fun flavor. Not what I'd call spicy but surprisingly good! This brand has consistently delivered delicious quality jerky." Learn more.
8. Aufschnitt Meats Teriyaki Beef Jerky
Try one of Aufschnitt Meat's best selling beef jerky flavors. It's created with a perfectly balanced marinated of pineapple juice and soy sauce, sure to satisfy any Teriyaki lover. It's also kosher, all natural, gluten free, and sourced from 100% grass-fed beef. Pick up a bag for under $6.