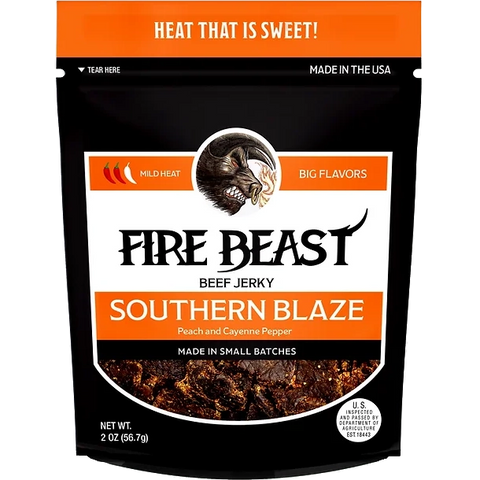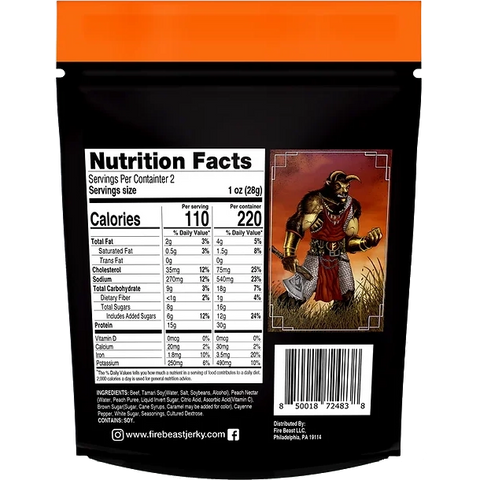 Fire Beast
Fire Beast Southern Blaze Peach Cayenne Beef Jerky, 2.0-oz
Fire Beast Southern Blaze Beef Jerky offers a unique flavor profile with a perfect combination of sweet and heat. Peach and cayenne peppers provide a balanced blend of sweet and spicy for an unforgettable experience. Enjoy 2.0 ounces of this bold taste sensation!
Nutritional information
Ingredients: Beef, tamari soy (water, salt, soybeans, alcohol), peach nectar (water, peach puree, liquid invert sugar, citric acid, ascorbic acid (vitamin C), brown sugar (sugar, cane syrups, caramel may be added for color), cayenne pepper, white sugar, seasonings, cultured dextrose
Contains: Soy
Package size: 2.0-oz
Heat Level:
0 - Mild
10 - Extremely Hot
Jerky is great.
Had this jerky in my box. The flavor of peach and cayenne was amazing. I never had a jerky that tasted this good.