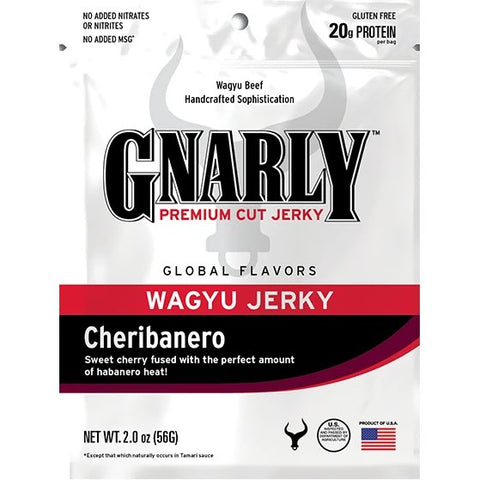 Gnarly Jerky
Gnarly Cheribanero Wagyu Beef Jerky, 2.0-oz
Gnarly's Wagyu Cheribanero jerky was artistically created by their founder and flavor master, Dayna Haupt! A spicy habanero blend balanced with refreshing hints of cherry for the perfect balance of sweet and heat! Try it and you won't turn back.
Nutritional information
Ingredients: Beef, mango, brown sugar, apple cider vinegar, honey, fresh habaneros, minced garlic, seasoned salt (chili peppers, salt, dehydrated lime juice, silicon dioxide (used for anti-caking)), ginger, sea salt, granulated onion, habanero powder, coriander, turmeric, cumin.
Package size: 2.0-oz
Heat Level:
0 - Mild
10 - Extremely Hot
Tasty, but get two bags.
This has a really good flavor, little bit of sweetness, tiny touch of heat, but there isn't nearly enough in a bag. Which is my fault for not reading it more closely, and to be expected at this price point, particularly if it is in fact wagyu. So if you're thinking of getting some, I'd recommend doubling up. If it sounds good to you then you will like it, flavor is true to the description, and you will want more than one bag.
Heat Level:
0 - Mild
10 - Extremely Hot
Awesomeness
This is one of the tastiest jerky I've ever had.
Awesome!
Love the flavor of this one. I have to limit how much I have on hand, or I will eat it all…
WOW
Live in the country raise our own beef pork chicken and occasionally duck,,,, lotsa deer meat as well,,,,,, this cheribanero whatever the **** is the best taste ever on meats You guys need to do 2 things 1 make this as a sauce and marinate 2 Get the **** outta cali,,,,,,,,