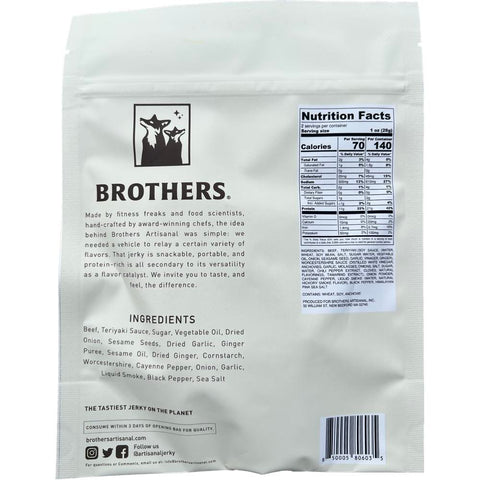 Brothers Artisanal
Brothers Artisanal Premium Jerky Original No. 5 Beef Jerky, 2.0-oz
A tender and original favorite! Tastes like teriyaki, but with a garlic-onion punch and cayenne backbone. It's not as sweet as typical teriyaki, and has smoky undertones. 
Gluten-free
Made with 100% grass-fed beef
No hormones
No antibiotics
Nutritional information
Ingredients: Grass-fed beef, [gluten-free tamari, sugar, vegetable oil, dried onion, sesame seeds, dried garlic, ginger puree, sesame oil, dried ginger, cornstarch], Worcestershire sauce, cayenne pepper, onion, garlic powder, liquid smoke, black pepper.
Contains: Wheat, soy, anchovie
Package size: 2.0-oz
Great stuff
Bought 6 bags of jerky and this was the best one of the bunch sadly. Cant wait to try more
A unique taste,texture and aroma.
Indescribable taste. They need to make it available in a larger quantity.