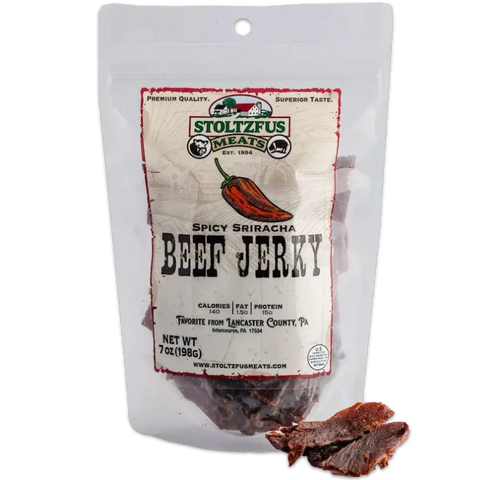 Stoltzfus Meats
Stoltzfus Meats Spicy Sriracha Beef Jerky, 3.0-oz
Wake up your taste buds with Stoltzfus Meats' Spicy Sriracha Beef Jerky! It's made with real sriracha flavor for a deliciously zesty kick, all in a medium chew. Don't worry, it won't leave you in tears - just a subtle spicy kick! Get your snacking fix today!
Nutritional information
Ingredients: Beef, tamari sauce (water, salt, soybeans, alcohol), water, brown sugar (fructose, caramel coloring), sriracha sauce (chili, sugar, salt, garlic, acetic acid, potassium sorbate and sodium bisulfate as preservatives, xanthan gum), honey.
Contains: Soy.
Package size: 3.0-oz